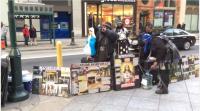 DJ Fights Hate Speech In Liberty Plaza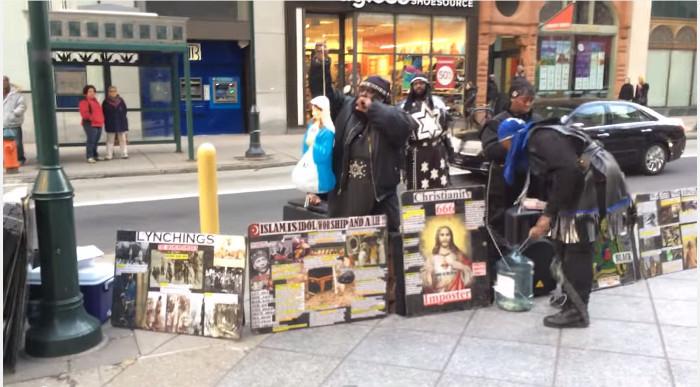 A group known as The Israelite School of Universal Practical Knowledge has been using their right to free speech to blast their anti white and anti gay speech in Philadelphia's Liberty Plaza for quite some time. Last year the group was threatened with a lawsuit if they didn't move off of the spot they originally had commandeered to spew their rascist propoganda to passersby on grounds they were on private property. Not dumb enough to want to get sued, the group packed up and moved: to the public sidewalk just feet from the very same plaza. As long as they didn't impede traffic, they were within their rights to keep spewing their hate and that is exactly what they have continued to do.
Well, fed up with the noise, the shop owners of Liberty Plaza thought up a very clever way to fight back, they hired a DJ! Wait, what?
Yes, a DJ, in probably one of his weirdest DJ gigs yet -and DJs see a lot of those- was set up right across from the black israelites table where he proceeded to turn the volume up on a inspired set of mainstream EDM hits, pop, and Wild Cherry's 'Play That Funky Music (white Boy)'!
The UPK kept right on spewing of course, but their message was undoubtedly affected as it was drowned out by the booming beats and their own feedback, since they obviously had to turn the mic all the way up!
You can't make this stuff up people! The following video was posted this past January which leaves me to wonder if this tactic worked. I sure hope it did, but if anyone is in the Philly area, please do let us know if that DJ is still working.