EDMBIZ Still Ringing In Industry's Ears

The first ever EDMBiz conference held in Las Vegas came to an end last week Thursday. Though the conference only lasted a three short days, from June 5 to the 7th ending right before the start of the Electric Daisy Carnival, it seems to have gotten off to a great start. Besides the music still echoing in the heads of those who perhaps partied a little too much, there are some other more relevant echoes reverberating throughout the scene that you need to know about if you weren't able to attend yourself. Both industry insiders and fans are still talking about some of the topics raised at the panel discussions and we wanted to give you a taste of some of them; these are topics you should keep an ear on if you're in the biz or just a fan. So, strap on your headphones and check our brief synopsis.

Avicii's Tour Not Reaching All Levels
Probably the hottest DJ on the globe right now is Avicii, his tour however, not so much. Turns out Avicii's Le7els tour is having a hard time at the ticket counter. Apparently, the delayed launch of the tour was not due to technical difficulties or the like but, poor ticket sales. Many industry insiders present at the EDMBiz conference went off on the tour but no one put it as clearly as Live Nation CEO Michael Rapino who said the tour is "one of the scars of the business." Ouch! Is Avicii's tour a sign that the end is near or is it proof that DJ's need to check their ego's at the clubs?
EDC Founder Pasquale Rotella Doesn't Want Big Acts Anymore. Is He Keeping it Real Or Keeping It Crazy?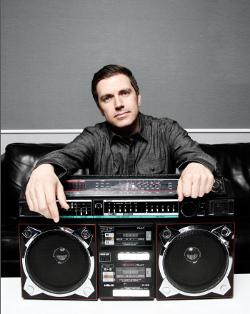 Insomniac is the company behind EDC and EDMBiz. And the man behind Insomniac? Pasquale Rotella. So it comes as no so that he would make some of the biggest headline grabbing statements during his inaugural conference, right?
As founder of one of the nations biggest EDM related events, you would think Rotella would be the first to agree that when you're running a massive dance music festival, you'd want the biggest names in the game, right? Well, not so fast. Seems Rotella is going in the completely opposite direction and taking a stance against the scene, even himself. The statements he made at the creatively named panel "An Agent and Five Promoters Walk Into A Room," are probably the most talked about, quoted, and Tweeted statements of the conference. What did he say exactly?
For starters Rotella stated "Our strategy moving forward is we don't want to book the [big] guys." Huh? He went on to say, "I don't want to be a promoter. My passion is not selling tickets and making money. I want to create an experience. You don't have to book the big acts who sell out arenas."
I'm all for an experience but, what does this mean exactly? I'm not so sure but, he did namecheck the Burning man festival saying that "Burning Man has no talent," referring to the art festival where everyone is a star instead of fans vying for space to see invited headliners. Maybe Rotella thinks he can find enough undiscovered talent via his Insomniac Discovery Project, which he launched this year. I don't know how that would work but, I sure aint against putting together a submission mix myself, and I bet you won't be either.
Surely Rotella's comments caused some in the audience to drop their mouths and shake their heads in disbelief, and one can only imagine what the backstage talk is like but, as risky as this potential move is, the bottom line is Rotella is thinking quite differently from the pack. Those who say they support people and companies that keep it "real" and support the culture might want support Rotella and hope the charges he embezzled a few G's from the Los Angeles Coliseum -host of EDC 2010- come out in his favor so he can make this statement a reality. Either this guy is a genius or somebody slipped him some really strong ish.
Rotella Wants To Build An Adult Disneyland?
Speaking of genius, you know how they say that every genius might in fact be a little bit crazy? Is it possible that Rotella fits this mold? I'm sure there are plenty of people who would flat out laugh at this notion but, how else do you explain the things that come out of this guys head? I mean he founded the massively successful EDC and the EDMBiz conference we're all talking about. And so what that he may have embezzled a few million dollars, that was just the crazy side, right? I don't know about what goes on behind the scenes, much less in his head but right now, I am more than entertained anticipating what he's going to do or say next, and this adult Disneyland thing sure does sound interesting.
Essentially, Rotella stated during one of the panels at EDMBiz that he is considering taking his show on the road and building venues. "Fairgrounds are built for fairs, racing tracks for racing, arenas for sports. So for me, that is something. An adult Disneyland for what I do. I'd rent it out to other producers; I would focus on dance music. Just to create the ultimate experience in a venue." I don't know about you but my ears are open like a certain mouse in Florida.
EDC > WMC?
Speaking of Florida, we arrive to our last topic on this years inaguaral EDMBiz conference and this one is about another one.
Fact is, EDM is big business but, is it big enough for more than one conference? Can EDMBiz and WMC both survive in the new world of electronic dance music? Seems we're going to find out soon enough.
Another fact is that if you go to Winter Music Conference and talk to the veteran attendees and newbies alike there is one thing you'll notice, and that is that many are disappointed at a myriad of things: lack of focus leading to disorgination, exorbitant prices by clubs trying to capitalize on eager club goers, panels that serve more as ego boosting vehicles than anything of real value, even too many parties, which personally I find weird.
As accommodating as Miami has been to WMC, I doubt they can hold a lighter (or would that be a lit cell phone) up to the cats in Vegas. And this is before you even take the venues themselves into consideration; Vegas was built for this type of thing. Hate to break it to you but, Miami's days of hosting the WMC, and the WMC itself might be numbered. Fans of WMC might want to start looking towards Vegas as EDMBiz aims to take what the Winter Music Conference started to the next level.
Well, there you have it party people. Love it or hate it, dance music is big business; whether you're a veteran making your way in this biz or a newbie thinking of entering it, you need to know your environment, and this is it.