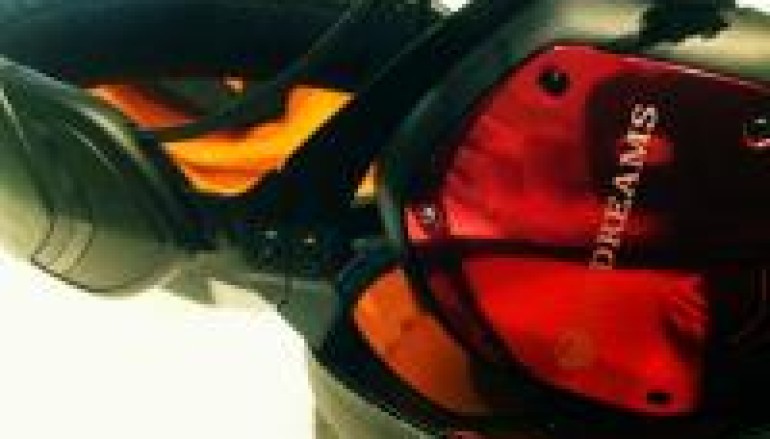 Gear Review: V-Moda Crossfade M100 Headphones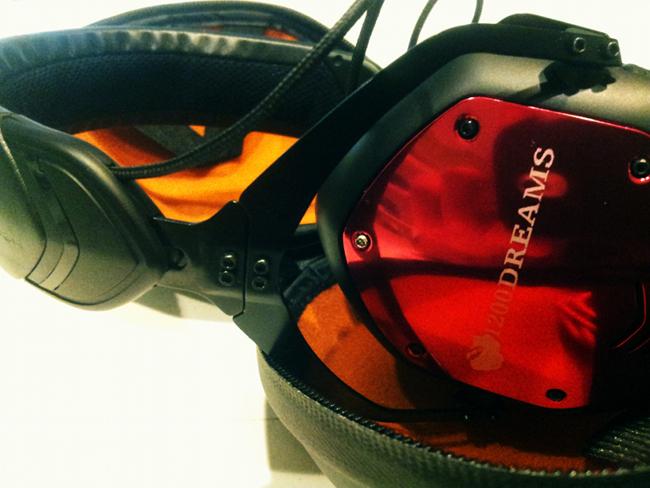 V-Moda claims the Crossfade M-100s "were developed in collaboration with over 200 audiophiles, editors, artists, DJs and Grammy-winning musicians." That's some serious pedigree right there. And apparently they're onto something.
From niche audiophile websites to big consumer stalwarts such as CNET, to the comments sections of online stores such as Amazon, the reviews for the V-Moda line of headphones have been glowing across the board. But let's be real, to some people all of this hyperbole means nothing when the price is so steep. And understandably so; not everyone has a few hundred dollars to drop just like that. So, why continue reading this review? Well, because I believe even more people are willing to accept such a high price if they feel they are spending it on a top shelf quality product. Does this apply to the V-Moda's, are the reviews legitimate? After just under two weeks with a pair of Crossfade M-100's, I'm going to attempt to answer that question for you.
Before I go any further, let me say I am not a headphone expert by any means. But I have been DJing since I was a teenager, and well, I am no spring chicken. In all those years I've gone through more headphones then I can count and I am particular about what I like -I spent over three months researching my last pair, a set of Shure SRH440's. I think my many years behind the decks coupled with my astute consumer spending habits makes my relatively short and straight to the point review worthy of your consideration. I hope you agree.
THE BUILD
The M-100's are circumaural headphones meaning they surround your ear. Before you even pump one note through these baby's you're going to instantly love how soft the ergosoft memory foam ear cushions feel. As cheesy as it may sound, the M-100's feel as soft as a babies bottom and I have to use such a familiar expression because, well, I want you to understand just how soft they are. I'm talking buttery smooth people. But that's where the softness ends, because from this point on we'll be dealing with nothing but hardcore elements such as steel and metal as in the steel reinforced headband and metal hinges.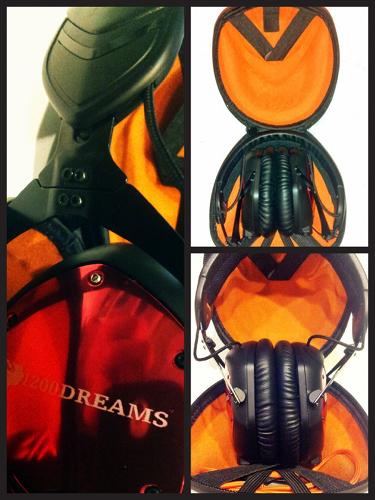 The steel reinforced headband is comfortable and lightweight and does a pretty good job of blocking outside noise. You would think they'd be heavier but personally I found them to be just right, snug in fact never causing my ears to sweat in the time I have been using them. As for their durability, V-Moda has gone above and beyond and made these babies to withstand close to one hundred falls from six feet onto a concrete surface and the headband can be flattened 10 times and still retain its original shape. This is very important for a pair of headphones intended to be folded up. And in case you're worried that all that folding will invariably lead to some plastic hinge eventually breaking, you can unburden yourself of such worries. The metal hinges will make sure of that. I am particularly pleased that the spring mechanism on said hinges do not have any protruding edges or of the kind that can pop out after extended use.
Each earpiece has a 3.5-mm audio input which you can use to feed two different audio sources into the headphones -an mp3 player and a phone for example. Another cool option these dual inputs provide is the ability to daisy-chain them with other users. Not sure when and how many times a situation which calls for such a feature would arise, but it's a cool option nonetheless.
M-100's come with two Kevlar-reinforced cables. There is an orange cable for use with smartphones and tablets and which comes with a control button and a built-in microphone for calls or a play/pause or forward/back button for controlling your music. The black cable has a 3.5-mm input connector that allows others to plug in their headphones to listen to what you're pumping.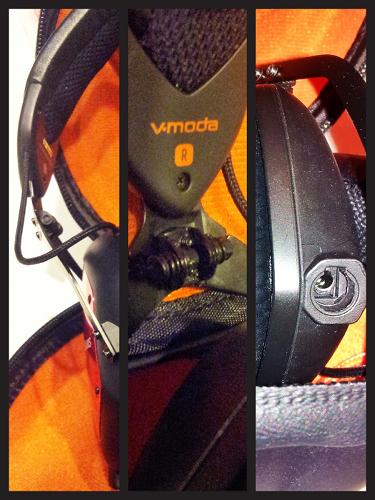 Remaining true to their extensive quality control techniques V-MODA has also put these cables through extensive testing and claim they can withstood over one million bends. This is good to know if you ride the subway as much as I do. Speaking of which, the M-100's do bleed a bit, so people close by will hear a bit of what you're pumping – do keep that in mind.
That being said, our generation does like showing off a bit so V-Moda made sure we could feed our egos as much as our ears with their customization options. If you like, you can customize the metal plate that goes on the cans for free if you order them from V-Moda's official site. Imagine your own artwork or DJ logo on these puppies? I don't know about you but that sounds great!
Lastly, I have to mention the "exoskeleton" clamshell carrying case. This is one of those accessories that makes you feel like you are the lone person in the universe to receive a little something extra special with your purchase. My last pair came with a faux leather bag that does nothing to protect the pair and which I've used maybe one time. I can imagine a company like Sony or Apple selling such a case as this as a $100 accessory, after the fact, but with the M-100's you get this hard shell beauty, with a carabiner hook mind you, as part of the package. That too sounds like a sweet deal to me.
THE SOUND
Val Kolton, the creator of V-Moda would be the first to tell you that his inspiration behind V-Moda was born while he was awash in a sea of pounding four to the floor dance music during a trip to Ibiza. Naturally, he has marketed the V-Moda line of headphones to the dance scene and DJs have enthusiastically supported him throughout. But don't for one second think that's all these phones can handle.
The M-100's have 50 mm drivers, a frequency response from 5 Hz to 30 kHz, a sensitivity of 103 dB at 1 kHz / 1 mW, and a 32 ohm impedance. What does this mean to the non-audiophiles out there? Well, I listened to various types of music from dance music of course to hip hop, reggae, rock, pop, and classical on an iPad, an Android smartphone, a Macbook pro, and an NS7. I also watched a bit of a movie on the Macbook pro. In all cases the sound was completely immersive. The bass, the obvious kicker (pun intended) here, is strong and punchy but not overwhelming in the least bit, which is kind of what you would expect from a headphone company borne out of dance music culture. The midrange and the highs were very clear and open sounding. Vocals were crisp, hi hats and cymbals were right there in the room with me. While listening to classical music I found myself transported away from the experience towards bliss. That may have been the music, but I'm sure the M-100's made that ride smooth as can be. Overall the M-100's provide a crisp, punchy, yet smooth aural experience. I don't know how else to say it, but the M-100's sound great.
CONCLUSION
I'm sure more deeply involved audiophiles than me (I don't even consider myself one) might find other headphones to be superior to the Crossdafe M-100's in some aspect and can point out some area in the audio spectrum where they might come up short in comparison to another pair of headphones, and I guess that's how it should be, we should always be improving. But bottom line, the M-100's provide superb sound.
That being said, there's something to be said about how a product is crafted and feels and from the moment you first touch a pair of M-100's you know you are holding a well crafted and thoughtfully produced piece of gear in your hands. Apple product owners know exactly what I am talking about and this is what the M-100's are reminiscent of. When a product feels like its going to last a lifetime, especially in this day and age where it is all but universally accepted that our electronic products in particular have a limited service life, it goes a long way. When it comes to the execution of the M-100's we are talking about superb craftsmanship and it shows. To top it all off V-Moda backs up their handy work with a warranty that is worth writing home about itself. Not only do these puppies come with a two-year warranty, but V-Moda will sell you a new pair at half the current retail price after the warranty expires -you know, just in case you dropped yours more than 100 times from over six feet! Great craftsmanship coupled with this kind of support puts many of my worries as a consumer to rest and when it comes to spending your hard earned money, I'm sure this is one of the most important things of all.
Check out the V-Moda store
on Amazon for great prices!
Vote "Headphone Of The Year" at DJ Mag's tech awards. If they win they have promised to give away $10,000 in prizes including turntables/CDJs, mixer, Samsung S3 with Verza & Metallo case, iPhone5 with Verza & Metallo case, many M-100 & LP headphones. Now, that sounds great! Vote at http://V-MODA.com/vote
What are your thoughts on V-Moda's Crossfade M100's or any of the units in their product line? Quality product or just hype?