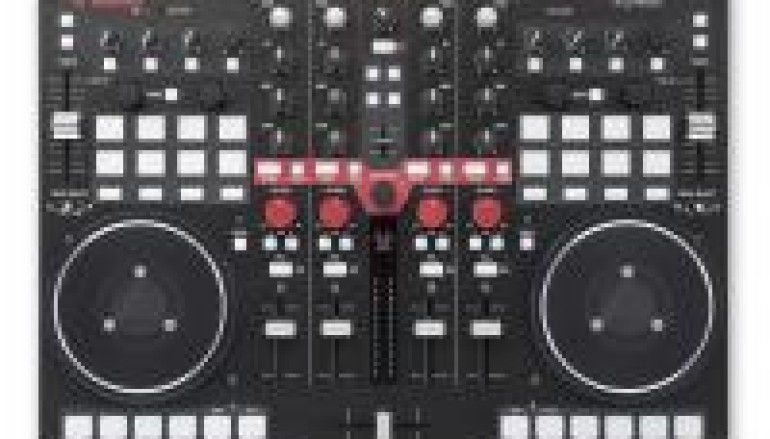 SMALL SIZE BIG PUNCH VESTAX VCI-400
The new Vestax 4 channel controller measures at just over 15″ wide and 12″ deep, but don't be fooled by it's small size. It can handle 4 decks and has programmable buttons, and it's one of the first controllers that you can use with your choice of DJ software! You have to admit, that feature alone makes this a pretty compelling purchase.
At just $999 msrp, everyone truly can be a DJ! The vci-400 will be available December 2011.
FROM VESTAX:
IT'S YOUR CHOICE
Serato? check. Virtual DJ? check. Traktor Pro? check. Torq, Mixvibes,Mixx, Deckadance, djDecks? check!
The Vestax VCI-400 works with any DJ software that has a MIDI learn function. Having more than 200 assignable parameters (knobs, faders and buttons), you will have plenty of room to fit in all necessary controls of the software you use. Although, we understand creating a MIDI map from scratch can be time consuming. Thata's why Vestax will have basic MIDI maps for a variety of DJ software available on www.vestax.com If it's the first time for you to buy a DJ controller or if you're seeking for other DJ software, the VCI-400 comes with bundles of Serato DJ Intro and Virtual DJ LE 4 Decks, both designed for immediate plug&play DJ experience.
THINK OUT OF THE BOX
The biggest advantage of using a controller to DJ is regardless its compact size, having all necessary controls in one unitand being able to transport/ play all your songs from a laptop. But VCI-400 brings you another advantage that is often overlooked: the great ability to customize how the controller works with software. The customize capability of the VCI-400 is nothing like any other and provides options that will spark your imagination. The wide and highly versatile control surfaces will map just to your style, and the multi-mode transport button allows great finger drum skills. Whatever your style is, whatever control function it is that you want to assign, the VCI-400 will have the best options for you.
IT SIMPLY SOUNDS AWESOME
The sound quality of a DJ controller is determined by its D/A conversion capability. There were no compromises when Vestax designed the new audio system built-in to the VCI-400, which uses a studio-grade asynchronous USB streaming system and provides a low-latency, bit-perfect audio at
24-bit / 48 kHz resolution, with high level output. On the road or in the studio, the VCI-400 simply sounds awesome.
OPTIONAL QUALITY OVERLAY
We provide optional overlay and appropriate mapping files to map your software! Available overlays for Traktor Pro 2, VirtualDJ and Serato.
Check out the mapping files on www.vestax.com
MATCH TO ANY SOFTWARE
Vestax got inspired by the king synthetizers. The VCI-400 is supplied with a high density blank overlay set out of the box. Stick the overlay to the VCI-400 facepanel and write your the function names of your unique function mapping.
Bundled Softwares
| | |
| --- | --- |
| Virtual DJ LE 4decks | serato dj intro |
| | |
Dimensions / Weight
457(W) x 313(D) x 31(H) mm<not include knob>
457(W) x 328(D) x 61(H) mm<include knob>
4.5kg