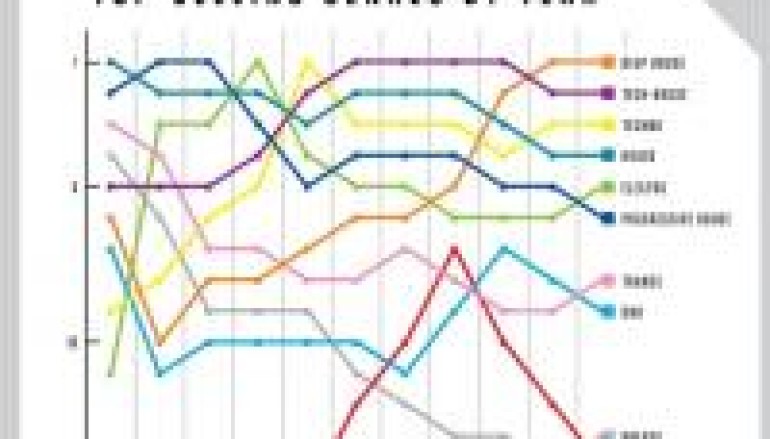 Beatport's Top-Selling Genres by Year – helpful or hurtful?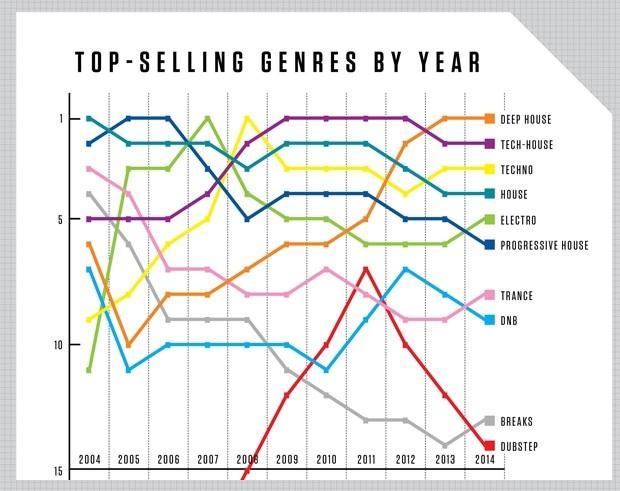 For years, label owners and artists have longed for the kind of data that Beatport has recently published. The chart above graphs genre sales over a 10-year period. As one of the world's biggest online retailers for Electronic Dance Music, it would seem safe to say that this graph is roughly industry-accurate. Upon further inspecting, however, there are holes in the data worth mentioning. To begin with, supplying a sales chart based on sub-genres of niche market music is noble but antithetical, at the very least. After all, who's to say what Deep House is versus House, for example? To provide such a specific report leaves Beatport open to the kinds of skepticism that anyone with discernment about the market would have about this.
Secondly, since 'soulful house' or even 'vocal house' wasn't included in their reporting, this leaves one to suspect that either sales for the aforementioned sub-genres are so bad that they don't even register on this sales chart or Beatport lumped soulful and vocal house into the other sub-categories. Thirdly, the Beatport website was recently been comprised. It has been alleged that hackers have gained entry into and have manipulated the chart positions on their website, rendering their top 10 charts worthless. Fourthly, Beatport, while one of the biggest retailers, certainly doesn't represent the totality of the market. To me, I'd rather see a similar sales report, supplied by the largest online music retailers, iTunes. Perhaps we would leave ourselves open to the same quagmires as Beatport, but at least it would begin to represent the biggest source for purchasing music.
Lastly, while Beatport lists each sub-genre in this dance music chart and how it has fared, we are left with the probable realization that 'soulful house' or 'vocal house' is on the decline. If we're left to presume that these sub-genres have been lumped together into 'house,' it's no longer the top dance choice. Vocal house artists are left to consider their place in the dance music world while working DJs get to truly understand where the sound is going. I argue that while vocal house artists are left in the dark, working DJs get to experience how the sounds are faring with club crowds. Duce Martinez, a continuously traveling DJ, provides his insight and explains that the most popular type of dance music he's hearing at his various gigs is deep house. For Duce, however, he notices that the tempo of these deep house tracks, while it was previously 124-127 BPM (beats per minute,) is now being produced at a much slower tempo – around 118-120 BPM. Additionally, Duce has noticed that vocals are sparse and most of the tracks are minimally put together. The beat and the groove are king. With that said, is there still a place for soulful or vocal house anymore?
What do you think? Is this sales report helpful or hurtful? Sound off!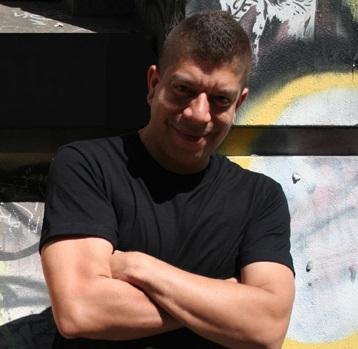 Adam Cruz is a DJ, artist, writer, record label executive and music business enthusiast. He has previously worked with Mel Cheren and Kevin Hedge at West End Records, Louie Vega and Kenny 'Dope' Gonzalez at MAW Records and is now label manager for his own Mixtape Sessions and Honeycomb Music with Josh Milan. When he's not busy working with his partners, Adam continues to build his fan base of loyal listeners, tuned in for his weekly "Freedom Radio Hour" shows, broadcasting live on Capital Radio 91.6FM in Sudan.