DJ Danny Rampling Now Author With New Book On DJ Biz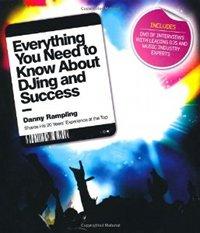 Veteran DJ, Danny Rampling knows his way around the DJ booth, the studio, the VIP room, perhaps even that seedy room behind the stage that nobody talks about. The 20 year veteran is doing all of us a major solid by putting many of his experiences and insights from his many years in the industry down in a book for you to read and learn what it takes to make it as a DJ in this day and age.
Titled Everything You Need To Know About DJ'ing & Success, the book is 300 pages thick, comes with DVD's containing 4 hours of video footage, interviews with leading industry figures, and access to a shit load more of stuff on his website.
In true 21st century fashion, Rampling is selling the book himself from his website. No big publishing powerhouse serving as middleman and thus jacking up the price. You can get this massive tome for just £14.99, er, I mean, just over $20 (thanks Google), which is a very small price to pay for all the info you are getting here. Actually, now that I think about it, don't get it, it's a waste of money. If you do however decide to get it, just follow the link to get your own copy here!