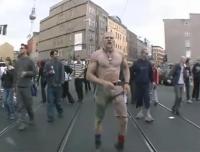 TOP 5 VIDEOS OF PEOPLE YOU'D NEVER EXPECT GETTING DOWN
You know that saying, "Don't judge a book by it's cover," well, it applies to music too. You never know what ones taste in music is just by looking at them.
It's easy for us lovers of Electronic music to think only those in the 15-35 demographic feel the groove, but you'd be wrong. Fans range from 5 to 105 and we'd be better off if we recognize and give love to those who don't fit the mold, because they are the ones who truly spread our music around the world.
Actually, I'm getting too deep, just watch these funny videos of people you'd never expect getting down to some good EDM flavors, doing just that! Most are funny, some are cringe worthy, but they are all of people truly feeling it, and you simply gotta love that!
Which is your favorite? Let us know in the comments!