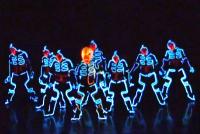 Awesome TRON Dance Is A Must See [VIDEO]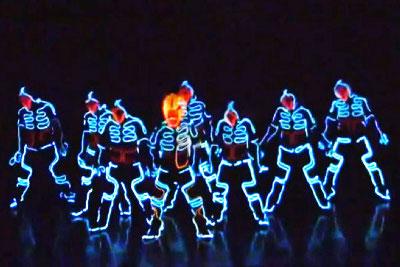 This awesome video just hit the net five days ago and though it's definitely making the rounds, clocking in at just under 600k views as of this writing, I won't hold it against you if you haven't seen it. Now, there have been other similar productions over the years such as seen on America's Got Talent, but this one takes it to whole new levels.

All I know is gleamed from the info provided in the YouTube summary, the video itself, and some Google research, and that is that it's from the Wrecking Crew Orchestra who hail from Japan and is not a multi-million dollar Las Vegas, Broadway or even music video production, but some local (very local by the sound of a crying baby in the audience) production.
The choreography itself is noteworthy, as is the awesome EDM soundtrack featuring Daft Punk's 'Arena', 'Waters of Nazereth' by Justice with Pase Rock, 'Mad Kidz' by Crookers, 'Bass Cannon' by Flux Pavilion and who knows what else I missed, but how they timed the lighted LED suit effects is what sends this over the top. I hope whoever is behind this gets a massive boost to their career aspirations, which should happen as this video goes viral, which it most certainly will. You won't be able to take your eyes off this, it is that awesome. Nuff said. To the videotape!