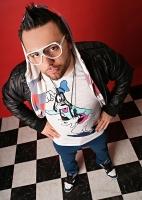 EXCLUSIVE INTERVIEW: DJ JOVE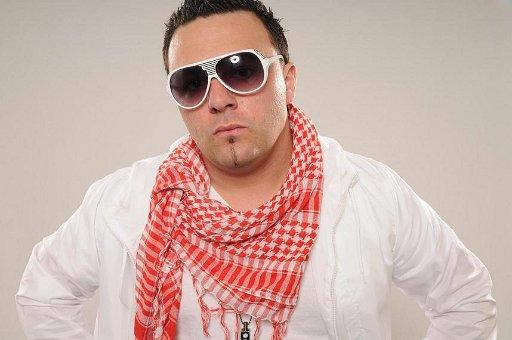 Not since the golden age of Disco in the 1970's has the music of the nite been so popular during the day. Dance music, now mostly known as Electronic music, is everywhere and as a result, DJs have experienced a resurgence as well. However, as some of you might remember, or maybe you did your homework, it was when Disco was at its most popular, that it met its demise. Apparently, America, had had enough.
Like a record, what goes around comes around and once again, the murmurs have begun. You don't have to go far to hear the subtle comments indicating that Electronic music is reaching its saturation point. "Electronic sucks" or "kill the dj" are almost commonplace comments on online forums, comment threads, and so on, but what does any of this have to do with DJ Jove? A lot.
DJs are front and center now, they don't just play the music at the clubs, they are the producers, the record label owners, and some are the stars themselves. The fact that technology has made it easier to become a DJ, seemingly overnight, has only brought more ire towards the craft. We laugh at it of course, like we did here and here, but it is a serious issue when veterans can't get work because freejays beat them to the venue, or when a spiky haired kid gets major bookings due to his part on some reality show that makes otherwise resolute Jersey cringe.
Now we have DJ Jove, a Brooklyn born DJ who is known just as much for his crazy antics as he is for his DJing. Is Jove a real DJ or is he simply jumping on the bandwagon? Is he someone who really loves the art of DJing and is only taking advantage of what his hard work has made possible? Or does he represent everything that is slowly going wrong with the culture? Actually, who is Jove to begin with?
HIS STORY
Born Vincent Frisina in Canarsie, Brooklyn Jove was attracted to the craft of DJing as a young kid. By high school age he had his first set of turntables and quickly set out to rock a party. Whether it was due to his obvious entrepreneurial nature, determination, simply good fortune, or all of the above, he scored some gigs at local bars and before he was even old enough to drink, had a residency at easily one of New York's most famous clubs, Webster Hall.
Jove has been quickly making a name for himself ever since, spinning in some of New York's hottest clubs and by his count, over 150 venues throughout the country. He also launched ResetRadio.com, which has been syndicated by two radio stations, and for which he has interviewed strippers, as well as other more main stream artists. He has also worked alongside Starr and Bucwild on their morning show on New York's short lived Pulse 87.7. Then he got his big break, or as some purists might claim, he crossed the line and sold out.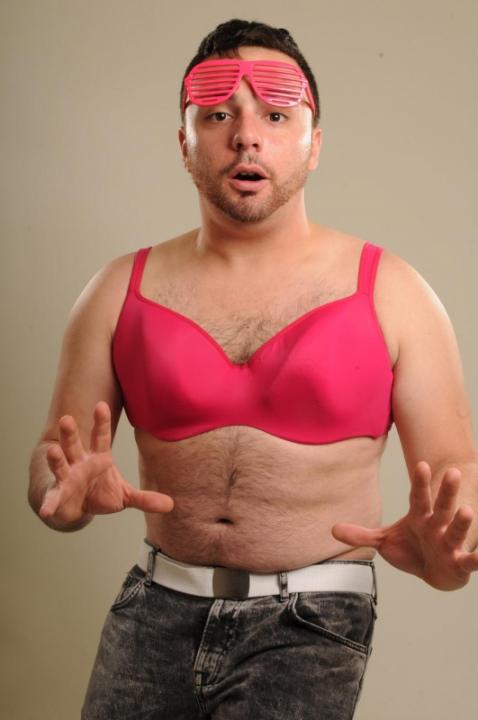 Jove scored a part on a mock reality show on MTV called "Is She Really Going Out With Him?," where he played, you guessed it, a DJ. His "character" billed as a "Douche Jockey" was, as he freely admits, not too far removed from the real him. Whether you call it acting or not, Jove, who is known to sport a bra as part of his act, was a character before the show ever came to be. But, as an Italian DJ he has more similarities with the Jersey Shore's Pauly D than any self respecting DJ would feel comfortable associating themselves with and that's a lot to contend with. Was it a wise career move or a bad one? Only time will tell, thankfully, Jove has a good sense of humor.
Obviously, we couldn't ask every question, but we must say, based on his responses to our questions, we were surprised with his frankness and feel that he does have a love for the craft of DJing, and is more than aware of the role he is playing. We hope he goes far, and that pop culture doesn't play him, and he doesn't play DJ culture.
INTERVIEW
1200Dreams: You are quite the entrepreneur, you got your first tables at 14 and by high school, you were spinning at local bars and some little club called Webster Hall, which we will ask you about in a minute. You also started Resetradio, and have appeared on a reality show, but what people really want to know is, what's with the bras?
DJ Jove: Ha! When my partner in crime SV and I were looking to push the "Act Stupid!" single. We decided to have a crazy yet STUPID gimmick and decided to go with me embarrassing myself.
1200Dreams: Some people might think it's part of your act, but do you really love being a DJ or is it small part of our overall plan for world domination?
DJ Jove: Even thought I have been doing more TV show cameos, Stand-up and Radio. I still LOVE to DJ. I have been doing it since 1999. It is the foundation of what I have been doing over the years. My plan is to continue to be the MOST eclectic entertainer in today's market.
1200Dreams: We ask this of all the DJs so let's get it out the way so we can move on. What were your first turntables, better yet, were they Technics? What are your thoughts of them? If you have never had Technics how much do you regret that exactly and when are you getting your first pair?
DJ Jove: Funny you ask. My first set wasn't Technics. I had received a Numark set from a friend's father that use to DJ. They were great till one crazy house party goer knocked it over. Hand-me downs were the norm when starting to DJ. There was always someone that use-to DJ. Free stuff always a good thing till something breaks.
1200Dreams: So, one of your first major residencies was at one of New York's most legendary dance clubs, the world famous Webster Hall, how the f*#$ did you manage to get such a gig?
DJ Jove: I was 17 doing the 21+ scene in BK. When I was DJing in Bay Ridge, I had came across a promoter that liked me. I was very professional because I didn't drink or do drugs. So they said come to Webster Hall one night to spin. One thing lead to another and I was doing it for a few months.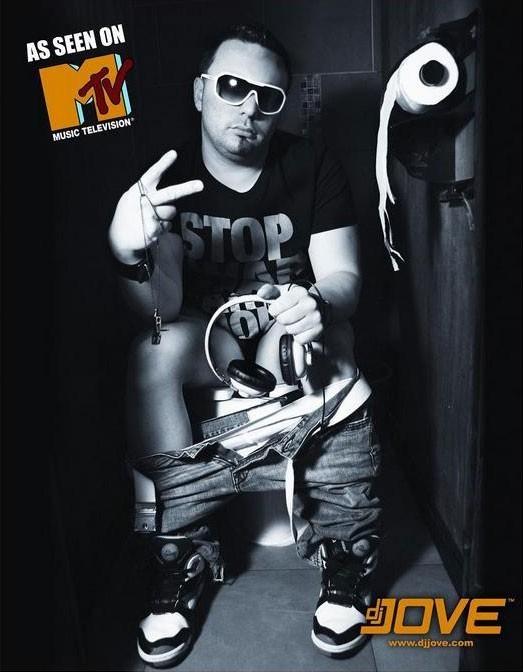 1200Dreams: Another crazy place you ended up in and what really put you on the map is the reality show "Is She Really Going Out With Him?" How exactly did that happen?
DJ Jove: A promoter had setup for a casting call at one particular club. Unfortunately, the venue shutdown due to violations. That promoter Anthony Soccoa had hit me up to do it at the lounge I was doing in Sheepshead Bay. One thing lead to another (when I was on the microphone going nuts) and the casting director wanted me to come in for a casting video. I said NO! After 3 days of them begging for me to come down, I went in front of the camera with the girl I was seeing at the time and received a contract on the spot.
1200Dreams: ISRGOWH is really a fictionalized or mock "reality" show (as if they all aren't right), but you are quite the character in real life, so how close to reality is your character on that show to the real you?
DJ Jove: I have always been crazy and wild but yet very professional. I have always been the one to make people pee on themselves when I said stuff. The show had over amped the old me. Now I have changed my ways. Realizing the change of the market and my own personal morals outside of "The DJ Life," I have changed up my act to a more respectful approach.
1200Dreams: How has the feedback to that show and your role as the "Douche Jockey" been for you and your DJ career?
DJ Jove: I continue to rock out other great NYC venues like Copacabana, Deep, Cain, Sol, and QUO. I also started to travel to MIA, L.A. & PA for gigs. But when the show aired, I lost almost 6 months of bookings after. Keep in mind my show repeated over 200 times here in the states and aired in Europe. Having over 5 million people seeing my show put a huge gap in my career that I am still recovering from it.
1200Dreams: You released a single called "Act Stupid" alongside your stage partner SV. Are you working on a full-length album, if so when will that be dropping?
DJ Jove: Yes, SV & I are working on the album as we speak. We are releasing tracks "In My System", "COLORS" and "You" early Spring. The album release is expected to be on iTunes early Summer.
1200Dreams: Now, that name is kinda your calling card, tell us what is the philosophy behind "Act Stupid"?
DJ Jove: "Act Stupid!" was created by SV when he was a little tipsy one night. He was inspired and hit me up. I went into Canarsie, Brooklyn that night and finished the track in 30 mins. We have gone to gentlemen clubs before. I personally hate going because I am not into strippers. So one night in NJ, SV had a girl come up to him and said, "put the money on the floor". I just laughed so hard that I had to go leave the place. That moment, the expression on her face was priceless when she was telling him what to do!
1200Dreams: Is it true you might be in yet another reality show? Can you tell us more about this?
DJ Jove: In April I have a show coming out on LogoTV. It is about how to date better in the "Club World" scene. I have been single for most part of my life. Plus, I wanted to show my true-self. The show will be the "Real Me". A everyday guy looking for some love in his life.
1200Dreams: With all the work you've been getting, has it taken you away from Resetradio?
DJ Jove: Pulling my hair but still doing The Reset. Now my mix show "The Jumpoff" is reaching out to 250K listeners a week over 40 different websites. I had the honor of winning 07′, 08', and 09′ as North America's #1 Mixshow on numerous websites. I am not slowing down! I am also in a bit of a bidding war with radio stations to have my own morning show syndicated over a few cities with co-host Kerry Schwartz (VH1), Shaun Gannon (Oxygen), and yes the black-sheep member of the "Jersey Shore" Angelina Pivarnick. Should be wild and crazy!
1200Dreams: What can we expect from Jove in 2011 and beyond?
DJ Jove: Expect the album "Act Stupid!", an AMAZING morning show to a city near you, I am opening 2FL lounge in Brooklyn in April, and opening a mega club in Asbury Park by the summertime. In the meanwhile, listen and hear me live at ResetRadio.com powered by THEBESTINTERNETRADIOCHANNEL.com or check me out with my tour "I AM JOVE" starting in March in L.A. Plus, going 30 cities in 30 days in the fall.
Thanks for having me!!!
OFFICIAL LINKAGE:
Love him? Hate him? Let us know in the comments!