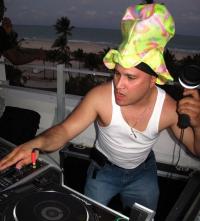 EXCLUSIVE INTERVIEW: DUCE MARTINEZ [VIDEO]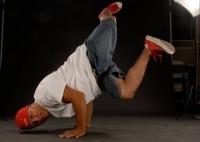 He's been DJing for as long as some of the new breed of digital DJs have been alive, though by looking at him you would think the baby faced Duce Martinez was a kid himself. If you are familiar with the New York House scene, though, I don't have to tell you about Duce. Chances are you're a fan already!
Julio Martinez aka Duce, sometimes Deuce, is by no means a rookie. He has been doing it up since vinyl was king and CD's were but a hi-tech dream. Which is why I believe he has a showmanship about him that you don't see much from in the new breed of DJs. See, Duce is not only a pleasure to listen to, he's a blast to watch as well.
From behind the DJ booth, Duce skillfully delivers banging House cuts, Disco, Soul, and other funkdified goodness, but one quickly begins to wonder with all the dance moves in between cuts if he ever had another life on the other side of the DJ booth as a dancer. Turns out he has.
As a young B-Boy in Hip Hop's early days Duce was a real deal breakdancer. As a member of the famed Dynamic Breakers he gained a little notoriety, ok, a lot. He appeared on ABC's Live with Regis & Kathy Lee as well as NBC's long defunct The New Show and even had small dance parts in the films 'That's Dancin', 'Beat Street', and 'The Last Dragon'! Say word? Word! You can't get more legitimate then dancing for Leroy Brown! Oh wait, you could if you dance alongside Hip Hop legends such as The Fat Boys, Whodini, Run DMC, Grandmaster Flash, LL Cool J, and Jermaine Dupree, all with whom Duce danced with or for in various concerts and performances throughout his career on the other side of the turntables.
Duce has also had another career as a producer, starting with Soul Creation in the 90's, with whom he and partners Jose Burgos and Duron Tarik had a lot of success working hits for T La Rock, Fearless Four, India, Lauren Hill, among others.
Just like his work behind the tables, Duce's work as producer has drawn some attention too. There aren't many producers and singers, and of course fellow DJs, that haven't taken note of the B-Boy DJ. One such person is Louie Vega, who included his track 'Freeman' on his 'Enter Festival 2010' album. Duce produced that track with another New York nitelife veteran, Louie "Lou" Gorbea. He has also worked with Kenny Bobien, Kenny Dope, Jazz Syndicate, Foremost Poets, and many more.
Duce continues to rock the production side of things and House the clubs across the country and in Europe and easily remains one of the gems of the New York underground, a veteran that House heads, dancers, and those starting out in the DJ game should go listen to, and watch.
Speaking of watching, watch our exclusive one on one interview with him filmed in Miami right here, right now, and see for yourself, just how wild he is. Duce might be wild, but you could learn a lot from this B-boy right here!