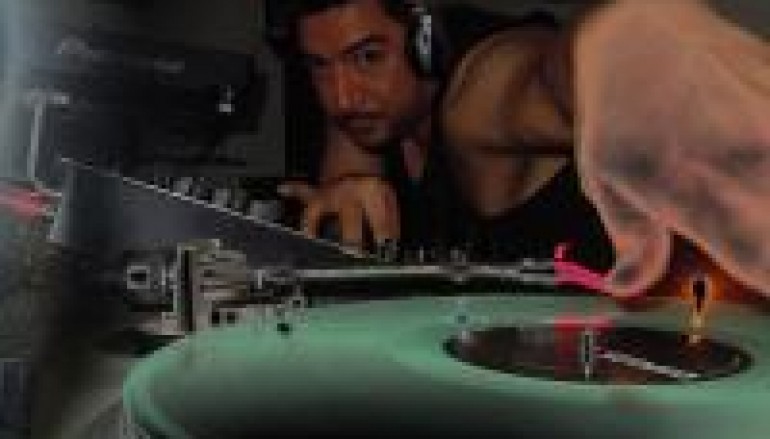 SOUND-OFF: DJ Smoke Sounds Off On The Analog DJ versus Digital DJ Debate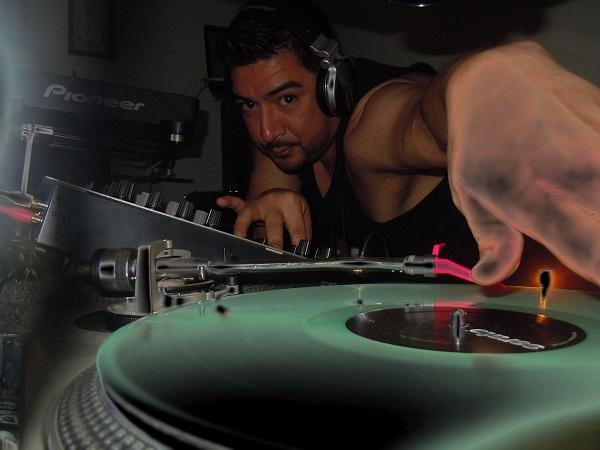 DJ Smoke from New York has been in the game for over 2 decades, 25 years to be exact. He's a globe trotting DJ slash turntablist of the first order. He is also an in demand producer and engineer who regularly works with indy artists on their way to becoming tomorrows stars. He's also jumped into the film industry already having scored an indie hip hop cult flick, 'Da Hip Hop Witch,' a documentary for Hatebreed, with two more on the way. Smoke also scored a web based sci-fi show, 'Venus Rises' (venusrises.tv), with his brother, Peter Calderon, (Dj Pete C., SAE) and Reel Life Pictures' (www.reellifepics.com) director Edgar Barua (MTV). And let's not forget the pre/post production sound design he did for the post apocalyptic Samurai flick, 'The Arcadian,' by director Dekker Dreyer.
Despite his hectic schedule, DJ Smoke always finds time to drop some dope mixes for party people the world over. Whether via his radio show on Ember Radio or live in the DJ booth, whether dropping needle to the record or finger to the keyboard, DJ Smoke gets the job done. Which is why when he chimed in on the ongoing analog vs. digital dj debate as he did recently on his Facebook page, we listened intently. We loved it so much in fact, we wanted to share it with you all. Ready?

THIS ANALOG DJ VERSUS DIGITAL DJ DEBATE
About all this Analog DJ versus Digital DJ, I'm going to chime in here. I believe I'm qualified to comment. I've been a Dj for almost 35 years. As a child, my uncle Danny, taught me about Disco and to do the Hustle. He played these vinyls on a very old turntable, Emerson I believe. It was the kind of turntable where you can play a record and stack more records above it on a post. As the one record would end, the needle would retract, and the next record would drop. The needle would automatically go back in place and the music would start. Essentially, it was the first mechanical Dj. I was too anxious for the next record to drop, because the whole process took too long. So I, as a 10 year old, would stand next to the turntable, with the next records in hand, in order to speedily place and listen to the next album. This would be the first time I recall that I was a Dj, even though it was just to one person, my uncle.
Time would progress and my desire to be part of the music grew. I convinced my mom to buy me equipment, when I turned 13. She agreed quickly, because she was tired of me taking apart her radios, in order to make a faux mix using cassettes. Bless her heart, but she went to Radio Shack for my first decks. I had gotten 2 Gemini GL-100's and a simple 2 channel Radio Shack mixer and headphones. I was in heaven, albeit just for a week. Trouble was that the Geminis were belt drives, with no pitch control. Old schoolers will know what that means… Nothing! I couldn't truly spin. My mixes were all off, (mainly because I had to become the pitch control, by speeding up the vinyl with my finger-tips). Forget scratching. I mean you could scratch, but the belt drives took their time getting back to pitch, and you would need about 3 pennies taped to the needle head. Then I discovered that if I scratched with one hand, I could push the record with my other, and I could get a decent mix onto cassette. It's how I would become ambidextrous on the cut. I grew a small following, mainly my neighborhood buddies, and would make mix-tapes for them. I would debut my new mixes at the basketball court, and was satisfied that I was a disc jock(ey).
Then my world would change! I went to learn rigging and party Dj'ing with Mania Entertainment in High School. This is where I was first exposed to the Technic 1200. I discovered the Astin Martin, to my Gemini Volkswagen Bug. The pitch control was amazing. The braking and skating were amazing. The look, the feel, the way it made me sound… amazing, amazing and amazing! I was in love. I went on to sell my basic equipment, and bought a fancy mixer. It's all I could get for the worth of what I had. I did this with hopes that I could afford my own Technics one day. The day came, when my cousin, Dj Manny B, (whom also appears on Ember Radio), asked me to give his turntables a home. I almost cried! I finally took my mixer out of its box, connected the tables, and literally never left their side for a summer. I practiced and practiced. I practiced at the highest volume by day or practiced inside headphones late at night. All I did was practice my pitch control and scratch. I practiced until the point that I became the pitch. I honestly believe that I can get two tracks in pitch, within milliseconds. I would openly accept any challenge that would negate that.
I would move on to grow in skill, and become a turntablist. This opened doors to parties and clubs. I'd lug 4 or 5 crates of records to every party, and then go home to NJ from NYC by train, with said crates. It wasn't fun before and after, but during the party is what I lived for. I had a pretty big head by then, and newer Dj's would challenge me. I would now become a battle Dj. I did about a dozen official battles, and fortunately only lost one, because I missed my plane ride. From these events, I had been honored to spin at the PleasureDome in the U.K. in 1996, and a leg of the LoveParade in Austria. I had arrived. I became the house dj at some clubs, and particularly one spot, The 3rd Degree in Hoboken, I met Alvaro Matta, who would become my manager, promoter and one of my life's closest friends. He would get me gigs abroad, and opened even more doors in the Rave scene. All because I paid my dues as a Dj, and because I respected my profession and would never stop practicing.
With all this being said, I now am part of the Ember Radio movement. We will be 3 years old in January of 2014. We will have over 300 solid shows by then. I'm estimating about 60-65 Dj's have honored and blessed us along this ride. Of all these sessions, and of all the talent, every person was individual. I particularly still spin on vinyl, although now it's with my original records or with Serato controllers. Only a handful of Dj's that came through used vinyl. The others use the CDJ's, or even use my DDJ. As far as I'm concerned, everyone came with a full heart of love for music. That is a Dj. It doesn't matter that they may have pushed a button, or actually scratched. It doesn't matter that they came with a USB stick or Cd case or a crate of records. They performed, and did it with love for our listeners, and for the music they put forth. Yes, because of where I came from, I can use my skills on any equipment, at any venue with any genre. Being a master of pitch control has its benefits. But that is personal and individual to me. I won't impose, what made me what I am, on any other Dj. I give everyone that is true to their music and up keeping their skill, their proper due. All I ask is don't belittle what I love, just because we come from different places and stages in time. There is plenty of room at the top, but it's your struggle, (not your equipment), that will get you there….
-Pablo "Dj Smoke" Calderon
Sound-Off is where we share the opinions and experiences of DJs, producers, and anyone making a name for themselves in the world of DJing and nitelife with the world. Whether it's something they posted on another site or written exclusively for us, in Sound-off you will hear from the professionals in their own words on whatever topics interest them regarding their life and experiences in the scene, a point of view, or simply something they want to get off their chest.
Are you a DJ? Do you have something to say? Contact us at soundoff at 1200dreams dot com and Sound-off!