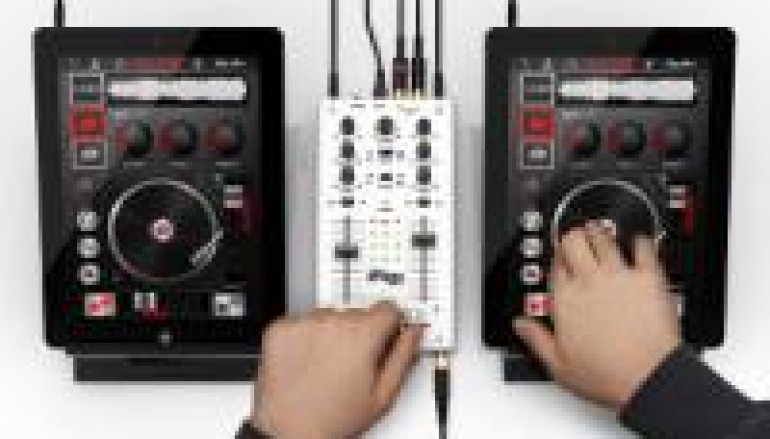 The Future of Real iOS DJing Is Here With iRig Mix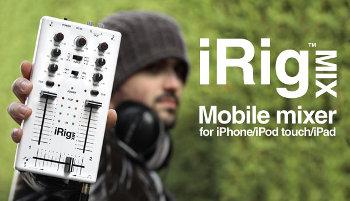 DJ apps for us on any of Apples devices running iOS such as the iPhone and iPad are nothing new. Along with the too numerous garbage apps out there that promise everyone the ability to be a DJ, there are actually pretty decent offerings out there. One that immediately comes to mind and is essentially the leader of the pack is DJay by Algoriddim, which allows for mixing straight from the iPad, but can also be used with nifty lil controllers such as iDJLive from Numark, which allows for even more functionality. All these toys are good, but when you compare them to tried and true official DJ hardware, they're just that, toys. Well, if iRig Mix is a sign of things to come, then we won't be able to call them toys for much longer.
iRig is a straight up real mixer, with real buttons – no touch screen anything, this is real world hardware right here, not an app- and it was designed for use with Apple iOS devices. Like Numark's iDJLive, iRig offers would be DJs the ability to mix and scratch, EQ, and headphone monitoring and cueing (DJay requires additional hardware for these last two functions), then iRIg pulls away from the pack and takes off firmly establishing itself in a whole new category.
iRig allows you to connect two iPads, which you can then treat like real turntables and individually monitor, cue, apply effects, beatmatch (requires IK Multimedia software – included), EQ, and more. If you only have one iPad, you can still keep rocking two decks, the iRig will split the signal for you! But wait, there's more. Don't want to throw your tried and true turntables or CDJs into storage just yet? iRig supports them too!
Will DJs truly be able to rock a party with iRig? The jury is still out as the iRig is very new, and not even on sale yet, but one thing is sure, it's just a matter of time.
For more info and to learn when iRig goes on sale, click here!
Here is there description for your reading pleasure.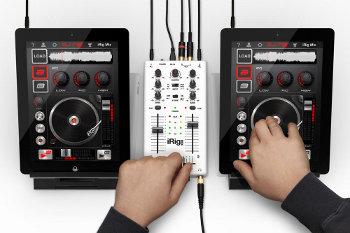 iRig™ MIX
The first mobile mixer for iPhone, iPod touch and iPad
iRig™ MIX is the first mobile mixer for iPhone, iPod touch or iPad devices. iRig MIX offers the same controls you would expect from a professional DJ mixer (crossfader, cues, EQ and volume controls, etc.) in an ultra-compact mobile mixer that can be used with a huge variety of iOS DJ mixing and other apps.
A DJ Mixer
iRig MIX allows DJs to use a traditional setup with two devices (one plugged into each of the independent channels) OR a single iOS device. For the single iOS device setup, the output of the single device is split into dual-mono and sent to the individual channels. Additionally – for the first time on any DJ mixer – iRig MIX can be used for mixing any type of audio source (coming from mp3 players, CD players, etc.) with an iOS device using automatic tempo matching and beat syncing. This is accomplished with X-Sync, a feature that works in combination with the DJ Rig free app from IK Multimedia that is included with iRig MIX.
Not just for DJs
iRig MIX also provides the perfect mixing solution for solo musicians or small ensembles that use one or more iOS devices to play live. It features an extra guitar/microphone input that facilitates processing with popular apps like AmpliTube and VocaLive or any other apps that offer real-time audio effects and processing. Its standard RCA output connectors provide direct connection to PA systems or powered speakers.
Maximum Portability
The ultra-compact size and low profile of the iRig MIX allows it to be easily be carried in a regular iPad bag. Plus its low-voltage power supply (only 5VDC) lets it be powered not only by any regular mobile device charger, but also by suitable iOS battery pack or laptop USB port for maximum mobility to mix anywhere.
iRig MIX includes 4 free apps (downloads from the iTunes app store): DJ Rig, the new professional DJ mixing app from IK, AmpliTube, the most popular iOS guitar amp and effects app, VocaLive the processing app for vocalists, and GrooveMaker, the loop based beat and groove making app.
Features:
2 stereo inputs with gain, bass, treble and volume controls, independent cue on each channel with LED indication and channel cross-fader

Instrument/microphone/extra input with volume control can be processed by iOS apps (such as AmpliTube, VocaLive)

Stereo output with RCA connectors, master level and LED meters

High quality, pristine sound

Quality headphone output for master or cue monitoring with independent volume control

Input switch splits Input 1 into dual-mono for use with DJ mixing apps on a single iOS device

"X-Sync" mode allows auto-sync with any audio source using the included DJ Rig free app

Can also be powered with battery packs and mobile chargers

Includes 4 free apps: DJ Rig, AmpliTube, VocaLive, GrooveMaker
Members, tell us what you think in the comments. Not a member, tell us via Twitter here!