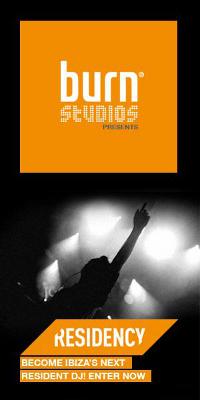 CONTEST: Become Ibiza's Next Resident DJ
This summer, burn studios is looking for aspiring DJs to become residents at some of the finest clubs in Europe. The winning DJs will rub shoulders with the who's who of Ibiza's music scene at the International Music Summit as well as attending the burn studios residency bootcamp where they will partake in workshops run by the most respected names in the industry including Sasha, Luciano, Jamie Jones and 2 Many DJs.
The island will then become home to three DJs as burn studios kick-starts their career in the epicentre of electronic music.
For all the info you need to get started click HERE!

Residency – Become Ibiza's Next Resident DJ from Burn on Vimeo.