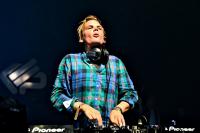 DJ OF THE WEEK 1.9.12: AVICII
What better way to start off our first 2012 DJ of the Week feature with a DJ that closed out the previous year with a bang, a DJ that exploded onto the scene with two platinum hits, a number of remixes that burned up the charts, and capped it off with a New Years Eve show in New York's Pier 94 that famously sold out in a matter of minutes. We're talking of course of Tim Berling, the Swedish born DJ known to the world as Avicii!
To those that knew Avicii prior to his breakout 2011, his success comes as no surprise. He was already becoming known for his tight productions that bordered on the cusp of genius, managing to release a single 'Lazy Lace', inspired by the music to the Commodore 64 game 'Lazy Jones', on his own before he made any real contacts in the industry. But then he made a contact, a big one.
In 2008, Avicii just so happened to enter and win a contest on the now defunct radio show Fast Trax, hosted by the legendary Pete Tong. Actually, he didn't just win, he won big, garnering over 70% of the votes! This resulted in his first major release titled 'Manman' on Pete Tong's Bedroom Bedlam label. He was only 18 at the time.
Over the next two years Avicii went to work, every year his output of original work as well as remixes growing by leaps and bounds, every year bigger then the last, much like his notoriety. Original work such as 'Muja,' 'Record Breaker,' and 'Break Da Floor' in 2009. 'Malo,' 'Bom', and the massive hit 'Seek Bromance' which he released under the name Tim Berg 2010, as well as a countless amount of remixes throughout that time, more than firmly established the young Swede as one of the fastest rising young acts in the game. Then came 2011.
There was an awesome remix of 'Sweet Dreams' and another beautiful one of Leona Lewis' 'Collide' and there were the roof burning tracks 'Street Dance,' 'Snus', 'Jail Bait,' So Excited,' and 'Hello Miami' as well as the mixed CD comp 'Avicii Presents: Strictly Miami' these last two further enamoring him to the Miami set and the states. He even earned a Grammy nod for Best Dance Recording as well for his collaboration with David Guetta on the track 'Sunshine'.
As good as all these track are, they were but mere blips in Avicii's 2011 discography when you compare them to his two massive hits 'Levels' and 'Fade Into The Darkness' which reached platinum and double platinum status respectively.
With their sweeping keys, take you away melodies, pounding beats and uplifting chorus in the case of Levels and the emotional lyrics of Fade Into Darkness, Avicii not only established himself as one of the biggest young DJs and producers today, he created two tracks that will forever serve as the 2011 soundtrack for a generation of dance loving fans all over the world. In the history books, when you look up 2011 you will find these two songs, which is more amazing a fact when you realize 2011 was a year in which dance music simply exploded all over the globe.
Avicii had a few other noteworthy accomplishments in 2011 as well. He toured the globe playing for sell out crowds wherever he played. He set his own personal best by playing for his largest crowd to date at the Electric Daisy Carnival in Las Vegas, and he also played at the largest dance music festival in Australian history when he rocked the decks at the Stereosonic festival in November. In addition to the record setting speed with which he sold out his shows back at his hometown of Stockholm, within six hours, his New Years Eve performance in New York sold out in a mere 10 minutes!
You can count on Avicii continuing his success well into 2012 and if he keeps churning out the quality work we've been hearing, count on him being here far into the future; and that's a good thing for Dance music indeed. Check out his DJ set for his Electric Daisy performance and hear for yourself.