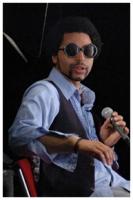 DJ OF THE WEEK 7.18.11: MOODYMANN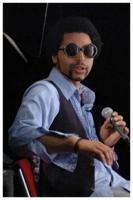 Kenny Dixon, Jr. aka Moodymann is as mysterious as DJs get. He doesn't wear space age helmets or a mouse head, but he has been known to wear masks and play behind curtains he or his minions put up around the DJ booth; he also rarely does interviews and basically keeps a low profile. It might sound cliche, and surely a lot of people say it, but with behavior like that you simply have to believe him when he says it truly is about the music.
I mean what else can you say about a guy who has gone on record saying that when he is behind the decks, he's there "to present some talents on the turntable, not, you know, the cat behind the turntable."
And who is the guy behind the turntable? Well, like I said, the guys a mystery. What we do know is that Dixon Jr. was born in LA, and that he emerged onto the scene in Detroit. He made a name for himself spinning and producing Detroit Techno back in the 90's. A few of those early productions such as his first 'Moody Trax EP" featuring Shades of Disco" and tracks such as "Sunday Morning," among others caught the attention of our Dance music loving brethren in Europe, especially in France, and his career took off from there.
Over the years he has produced and remixed more classics such as the mesmerizing "Winter Breeze," the sweet funk of "Don't You," and of course more of his modern Black Techno goods such as in "Freeki MF," and while he remains busy producing and spinning all over the globe, he has remained a reclusive figure more intent on doing what he loves than loving the attention it brings. Which is why, to really learn about the man, you simply have to listen to his music, or better said, the music he spins. Maybe, in listening to how he weaves together soul classics with more modern House sounds and Techno we can get a glimpse of what he is all about. Or maybe we can just get down and party. I think he'd prefer the later.