DJ OF THE WEEK 9.19.11: JELLYBEAN BENITEZ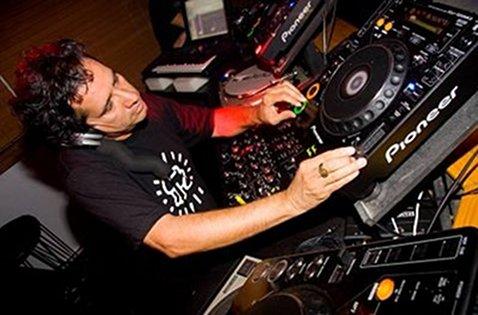 I'm just going to say it, if you're a fan of Electronic music and DJing, and don't know who Jellybean Benitez is, you're not a true fan. Time to go to school.
John 'Jellybean' Benitez was born in the Bronx and came to his own in Manhattan where as a teenager he first heard a DJ create magic behind a pair of turntables. It wasn't long before he managed to put together a modest collection of DJ gear himself and began creating his own mixtapes, which he determinedly shopped around until he finally was given the opportunity to create his own magic behind the turntables.
Keep in mind, this was in the mid seventies, when DJs were the newest rock stars on the scene and Disco was the sound of the underground. Disco died its first death, the clubs Benitez made his name at, clubs such as Galaxy, Les Smouches, Infinity, and the legendary Studio 54 have all faded away like the fog in a club, but Benitez, he is still making that magic.
Look into Benitez's story and you'll learn that he played an integral part in launching Madonna's career, and was even engaged to be wed to the Material Girl, but keep looking and you'll quickly learn that for over three decades Benitez has been one of the most prolific DJs and producers in the scene, period.
Benitez has worked with too many artists to count, but we'll attempt to name just a few. There is Debbie Harry, David Bowie, Eurythmics, Talking Heads, Duran Duran, New Order, Ruben Blades, Paul McCartney, Debbie Gibson, Whitney Houston, Janet Jackson, Peter Tosh, Kenny Bobien; I think you get the idea. Benitez has also been tapped by Hollywood, a lot. He has composed, produced and consulted upwards of 30 movies and TV shows (he's also appeared in a few movies as well). Benitez's list of accomplishments goes on and on, but we won't, we need to leave something for you to research after all.
We suggest you check out some of his own material, such as the classics "The Mexican" and "Jingo", and maybe even one of his latest "You Bring Me Joy," then move into the multitude of works he's blessed with his magic touch. For now, take a listen to the following mix, recorded live at the famed Funhouse circa 1984. Yeah, you need to know your history, so get to it!