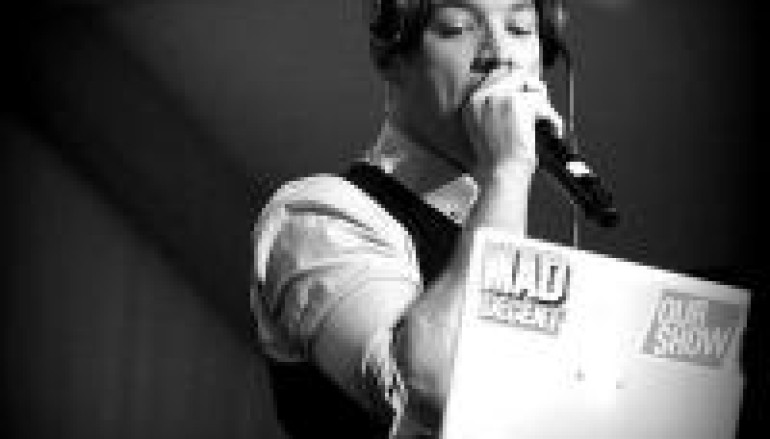 DJ OF THE YEAR 2013: DIPLO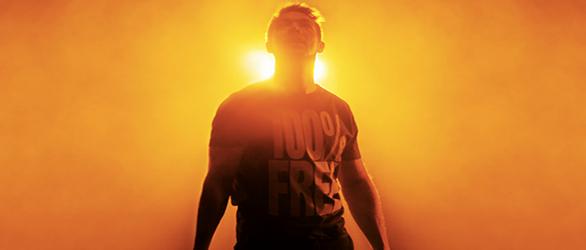 The end of the year usually marks a deluge of 'best of' lists and the DJ world is not immune. Neither are we. Instead of avoiding this notoriously difficult task, which is going to be picked apart by the masses anyway, we instead delve right in and throw our humble two cents into the pile with our annual DJ of The Year selection.
We've been selecting a DJ of The Year for five years now and if there is one thing we've learned is that it gets harder every year, especially when you want to stand out from the various other Top DJ lists out there. But you know what, we love it. We love it because we know that to stand out we need to dig deeper, and our position as a small rag tag team made up of fans first and professionals second allows us to take a step back and look at the scene from a fresh perspective. Or something like that.
All we know is that a lot of these lists have something in common, which is that the results whether culled from fan votes or that of industry insiders are pretty straightforward and predictable. When looking back at the year end winners of the other more established lists, I personally found myself unmoved by the results. By no means am I implying that the DJs are not talented, quite the opposite; Hardwell who topped DJMags Top 100 is a beast and Dixon, Resident Advisors number one pick is one of my personal faves. It's just that these choices are based for the most part, on the talents these awesome DJs display inside the dj booth and the surrounding scene. That's ok and obviously there's a place for that, but DJs are rock stars these days and their reach goes well beyond the clubs. We're doing them and the scene a disservice by narrowly focusing only on what happens within our world. We need to expand our horizons and this years selection is all about expanding horizons.
This years selection is not a safe pick by a long shot. In fact, some might consider him controversial; our senior writer said he strikes her as a "misogynist" and a "narcissistic jerk." This is possibly based on the non-stop images of twerking females -though sometimes it's dudes, animals and even dolls- constantly on display on his Twitter feed, and his Instagram, and his Vine -you get the picture. He is also regularly ensnared in a Twitter beef, at least four in 2013 alone. He likes to tell it like he sees it, even if it's a negative statement about the state of EDM, and yet despite all this he has the world in his hands. And who is 1200Dreams DJ of The Year for 2013?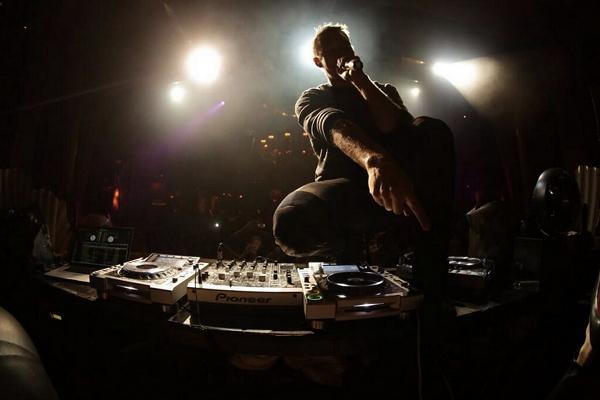 His government name is Thomas Wesley Pentz. He was born in Tupelo, Mississippi on November 10, 1978. He moved around a lot as a youngster living in Tennessee, Georgia, South Carolina, and various spots in Florida including Ft. Lauderdale, Orlando, and Daytona Beach. His soundtrack throughout these formative years was Heavy Metal, Miami Bass, Hip Hop, and more. He was interested enough in music that he dabbled in it, but that's all it was; dabbling.
In 1997, he enrolled at the University of Central Florida initially to major in film. He would eventually move to Philadelphia and enroll at Temple University and it was there that he first took to DJing. In 2003, now going by the name Diplo, short for Diplodocus -he's been a fan of dinosaurs since childhood- Pentz teamed up with a fellow DJ by the name of Low Budget and created the Hooked on Hollertronix parties. Before long it was one of the hottest parties in Philadelphia. Soon after the pair were pushing mixtapes and the Hollertronix sound began to spread, garnering props not only from local scenesters, but the mainstream press as well. The New York Times even named their 'Never Scared' mixtape one of the top ten albums of 2003!
Inspired, Diplo immediately hit the studios and in 2004 released his first album, 'Florida,' on Ninja Tune sub hip-hop label Big Dada. This too would bring Diplo acclaim, but he had no idea what was about to transpire next. Diplo was being introduced to globetrotting artists and producers left and right, but one particular introduction would be life changing. The artist was M.I.A. and when they were introduced to each other at a club, they hit it off immediately. They would become an item for a while, but it was their professional relationship in which they created the most beautiful music together. First it was for the mixtape 'Piracy Funds Terrorism,' which featured M.I.A. vocals from her upcoming album 'Arular' over Diplo produced beats. They followed that up by working together on 'Arular' and her follow up 'Kala,' which included 'Paper Planes.' As you know, this was a massive hit and it earned him a 2008 GRAMMY nomination for Record of the Year. Diplo had arrived.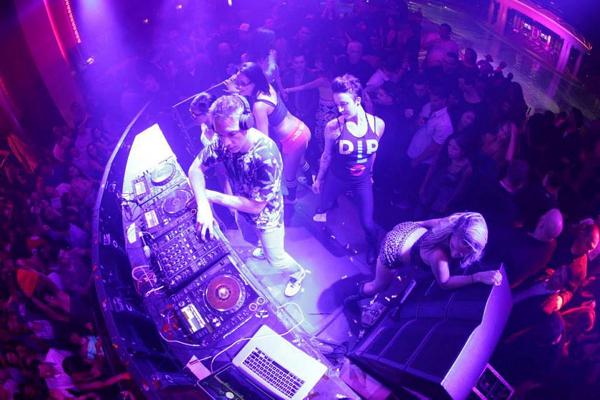 As one would expect, the GRAMMY's opened up a world of possibilities for Diplo. Over nite he was working with underground stars such as Santigold, Kid Cudi, and G-Dragon; hip hop heavyweights Lil' Jon and Missy Elliott; Alternative artists such as Beck, Radiohead, Maluca, Kid Sister, Die Antwoord, Alex Clare; R&B and pop stars named Beyoncé, Usher, Shakira, Bruno Mars, Britney Spears and Justin Bieber, and that's just scratching the surface.
If you are struck by the diversity in the styles and genres these artists represent, then you have hit on what makes Diplo the in demand producer he is today and precisely why he is so successful. When Diplo goes crate digging he delves deeper than your average DJ would ever think to look. We're not just talking about Dubstep or Punk or Dancehall -though he has extensively worked with those- we're talking about completely unexpected offerings such as Mathcore, or sounds from other parts of the world such as Angolan Kuduro, Cumbia, Moombahton, or baile funk aka Brazilian funk -which by the way was the subject of his 2009 documentary film 'Favela on Blast.' No matter what he finds, Diplo has a way of tapping into what is banging in these far away locals and creatively and expertly exporting them via his Mad Decent label in a way that keeps their original roots intact while making them appealing to new and eager audiences.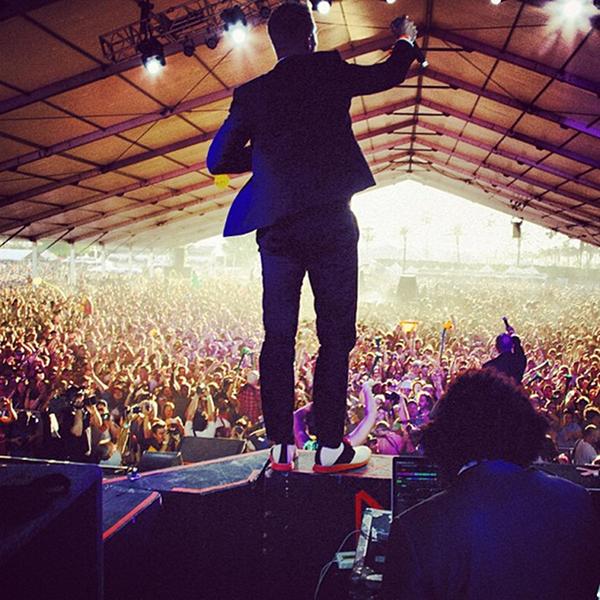 Bringing these diverse new sounds to the masses via your own record label is a lot of work, especially when you are one of the worlds most in demand producers and a non stop touring DJ -Diplo is constantly on the road spinning everything from private industry events to big ticket festivals and everything in between. Yet Diplo keeps at it because he feels that strongly about bringing new sounds to the table. In fact, that's what his artist collective Major Lazer is all about! We could write an entire article on this awesome 20 plus crew that serves as a further outlet for Diplo and company to mix and match a varied collection of sounds and styles albeit live and in person, but we won't. Just know, it too is a major undertaking.
Of course, Diplo still finds time to do his own more mainstream projects – if you can call anything he does mainstream that is. 2013 saw him drop two EPs 'Revolution' and 'Express Yourself,' he executive produced Snoop Dogg aka Snoop Lion's 'Reincarnated' album, and did remix duties for Calvin Harris, Psy, No Doubt, and Grizzly Bear, just to name a few. There's his Diplo & Friends show on BBC1XTRA. Oh, and there was that small hit that began a dance craze and became one of the first big viral meme's of 2013 that goes by the name of the 'Harlem Shake'. Yeah, Baauer, the man behind the track is a Mad Decent label artist who was discovered by Diplo.
If you're going to hold the Harlem Shake against Diplo, just know that he also created the Mad Decent sub-label, The Jeffrees specifically to promote up and coming artists and give away free music. And he also runs a charity named Heaps Decent which helps underprivileged youth in Australia and abroad. So, there is that.
As a result of all this hard work Diplo landed on Forbes highest paid djs list this year coming in at number 12. He also showed up as a new entry, #64, in DJ Mags Top 100 list, which is remarkable considering it's mostly EDM artists on that particular list. In fact, perhaps the scene is learning from him already and becoming as diverse as he is, because he has already been pegged to be one of the headline acts for the Ultra Music Festival 2014!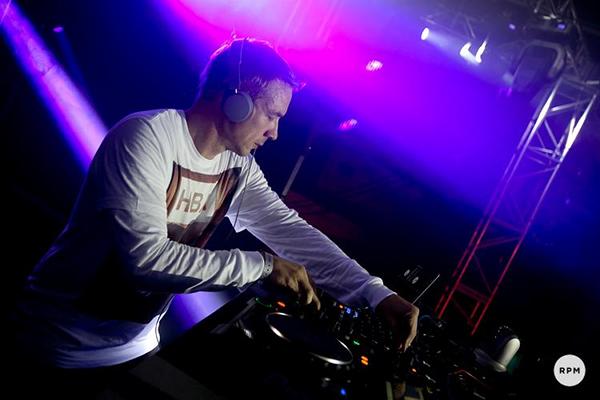 And that you see, is what makes Diplo stand out from the pack. With the backlash against all things DJ and EDM beginning to rise above the quiet murmurings of industry insiders to the loud harsh criticisms of cultural critics, it helps when someone like Diplo comes along and shakes things up. Instead of following the same path as many other DJs, playing from the same pool of music while throwing his hands up in the air, Diplo opens our ears to new sounds and experiences. He does this by casting a wide net and eagerly bringing forth talent from places we'd never think to look and placing these new found talents front and center. Diplo is proof that DJs are still relevant, that their original purpose goes far beyond just playing hit songs back to back. Diplo does this with his music, with his record label, with Major Lazer, and whether it matters to you or not, it's also reflected in his deeds outside of the industry. If Diplo is a sign of the future, than there is hope for DJs after all.
Tags
1200Dreams
,
Baauer
,
Beck
,
Beyonce
,
Britney Spears
,
Bruno Mars
,
Cumbia
,
Diplo
,
Dixon
,
DJ of the Year
,
DJMAG
,
edm
,
Grammy
,
harlem shake
,
Justin Bieber
,
Kid Cudi
,
Mad Decent
,
meme
,
Missy Elliott
,
Moombahton
,
Radiohead
,
Resident Advisor
,
Shakira
,
top 100 dj's
,
Usher
,
viral