DJ OF THE WEEK 12.23.13: DJOTW 2013 TOP 10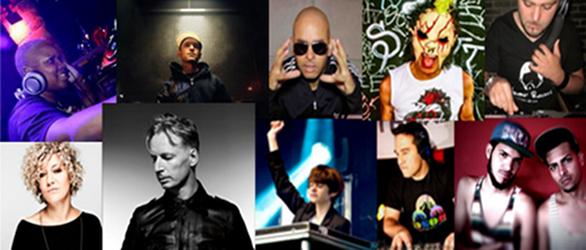 2013 was another big year for DJs and dance music! And man did we love it. As is standard fare around these parts, we did our thing and worked our asses off to represent this scene not only from the top of the charts, but also from the underground as well. You can see this reflected in one of our main features, DJ of The Week.
It would be easy, and would bring us many more pageviews, if we focused solely on the chart topping DJs or the ones with the best PR teams, but that's not how we roll around here. We also like to shine the spotlite on DJs that are standing out and making ripples in the scene for reasons other than chart topping remixes or hit songs. We like to zero in on those DJs still labeled "underground" that the mainstream perhaps hasn't noticed yet are still making a name for themselves, living more off of passion than big figure festival appearances or royalty checks. Telling from the results of our most popular DJ of The Weeks of 2013, this is exactly what our readers are looking for.
Following are the Top 10 DJ of The Weeks for 2013. You will notice that they are all great DJs and for the most part, very popular ones. But look again and you will notice most of them, perhaps with the exception of DJ Hell and Madeon, are not the chart topping DJs that the mainstream loved so much in 2013. And that's not a bad thing. At least I dont think it is. We featured Calvin Harris, Kaskade, Alesso, A-Trak, and Porter Robinson all major DJs with mainstream success, and those pieces were read, but these were far from our most popular pieces. Our most popular DJOTW features for 2013, were of the much beloved veterans Mikki Afflick, Tini, Oscar P., Peanut Butter Wolf, and Lars Behrenroth. And then you have the rising stars that are Paso Doble, The Martinez Brothers, and DJ Bl3nd. What they all have in common is that they are killing it, but doing so just beneath the surface that is the mainstream. Add DJ Hell and Madeon two DJs representing two different sides of the globe -and the age demographic- and who have had mainstream success in their careers, and you have our top 10 DJOTWs for 2013.
Following is 1200Dreams Top 10 DJ of The Weeks for 2013 based on pageviews/reads starting with the most read, Mikki Afflick. Of course, this small list on our small website is but a drop in the ocean of what is going on in the dance music world, but we think it says a lot not only about our small site, but of what true fans of this scene are really looking for. If so, we think our small site holds big promise, and so does the future of this scene.
Want proof, just click play to groove to the top our 10 DJs of the year. Click their names to check out their DJOTW article. And don't forget to stay tuned next week, when we unveil the 1200Dreams DJ OF THE YEAR 2013!

DJ Hell at Boiler Room – Berlin [August 29, 2012] by Djhellofficial on Mixcloud