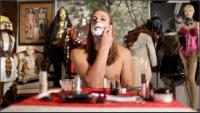 Introducing Tone of Arc "Goodbye Horses [VIDEO]
The Halloween movies kinda scared me when I first saw them as a kid, especially when I would watch them on the actual holiday. But there's a movie that creeped me out even more and still does to this day, and it doesn't need to be Halloween for it to work its dark magic on me. That movie is Silence of The Lambs.
Seems the duo known as Tone of Arc -Derrick Boyd and Zoe Presnick, know the power this movie holds very well. They have tapped into the very dark dungeon depths of the 1991 thriller in more ways than one to bring us the beautifully creepy cover version of 'Goodbye Horses,' the 1998 track by Q Lazzarus.
In case you need reminding, that's the song Buffalo Bill creepily danced to while dressed in a women's frock and a real woman was stuck in a dungeon pit of his creepy basement. I get shivers just thinking about it.
The protagonist in this video, who looks eerily similar to Buffalo Bill, plays the role of the deranged psychopath stalking, capturing, and torturing a woman in her home. And that's not even the creepy part. In a masterful tip of the hat to the original he then starts doing the dance in front of the mirror. Creepy is in full swing here people!

The song itself is great. Tone of Arc keeps it close to the original, adding a few modern synths, yet somehow managing to make it even creepier.
Keep an ear open for Tone of Arc, who are releasing an album this December. If this single, and the free download included below, is any indication, then expect a very deep and powerful album.
Read the official Press Release then get your FREE copy of their first single 'Fallow Your Heart' below.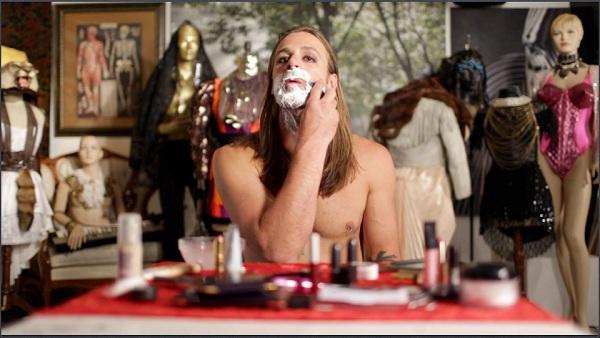 No.19 Music continues to champion a new breed of emotive techno and sinuous deep house and looks once again to the multi-talented Tone of Arc for their latest single, an atmospheric cover version of the 1988 hit "Goodbye Horses." The release also features a remix from the ever-excellent Deniz Kurtel.
No.19 Music, formed from the Canadian brain trust of Jonny White [one-half of Art Department] & Nitin Kalyan, has been keeping up the momentum in 2012 with a string of quality releases from the likes of Art Department & Konrad Black, Ali Love, Cameo Culture and Tone of Arc.
Tone of Arc is San Francisco based, multi-instrumentalist producer Derrick Boyd, along with partner/vocalist Zoe Presnick. Derrick has been a fixture on the electronic music scene for a number of years but it's since hooking up with Jonny White and No.19 that his star has really ascended. Their debut single "Shaking the Sky/No Pushers" received broad critical acclaim on its release earlier this year and saw them featured widely in the international press and their sound being imprinted on dance floors around the globe.
Now Tone of Arc is backed with a brand new release that is set to give an insight into the broader musical realms of which they inhabit. The record opens up with "Goodbye Horses," a cover of the 1988 Q Lazzarus hit that famously featured in the film 'Silence of the Lambs.' Boyd treats the composition with a deft touch, staying true to the original in many ways whilst bringing his own unique sound to bear, a dark edged eighties electro feel runs throughout and Boyd's own vocals soar over the arrangement with real power, quality stuff indeed.
"Goodbye Horses" is followed by one of Boyd's original compositions, the excellent "Soundsail" featuring vocals from Boyd and partner Zoe Presnick. The track has a distinctly Balearic feel with its repeated piano chords and uplifting vocal elements playing off the rolling rhythms and deep pads/synths. The original version is complimented by a remix from Crosstown Rebels / Wolf + Lamb artist Deniz Kurtel, as she turns "Soundsail" into a stripped and ethereal reworking that is brilliantly hypnotic and a perfect late night twist on Boyd's original.
No.19 Music will be hosting a label showcase at the beginning of the New Year at The BPM Festival in Playa del Carmen, Mexico, with performances by Art Department, Clayton Steele, Deniz Kurtel, Louie Fresco, Nitin, and Tone of Arc.
This is just the beginning, with the Tone of Arc debut album in the pipeline for early 2013. Enjoy this gem sampler of what is to come and with the No.19 label behind them it would seem they are on course for big things.
No.19 Music is offering this dancefloor bomb from Tone Of Arc, featured in TOA's live show and a staple in Art Department sets throughout this past summer. This is one of 4 songs that will be released this December from a collection of TOA's dance music in contrast to his electronic/indie material.
Tone Of Arc "Fallow Your Heart"