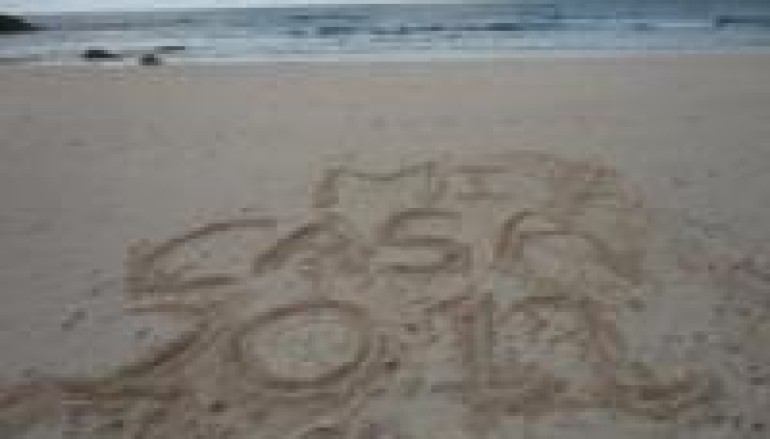 Mi Casa es Su Casa Co-founder Julius Spates Sums Up Paradise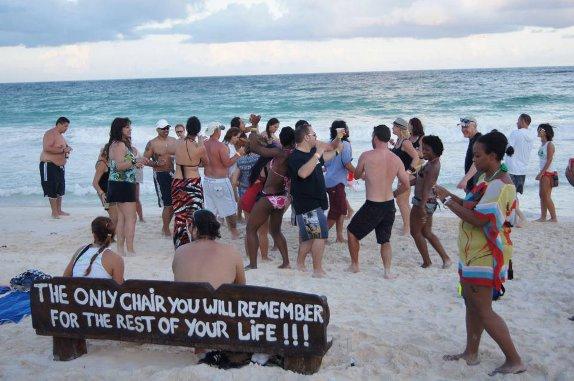 Julius 'The Mad Thinker' Spates and Jennifer Lynn Hurst are the brother and sister team behind the Mi Casa es Su Casa Holiday event. As a follow up to the recent Rescue's 1200Dreams Spotlite article, RescuePoetix caught up with Julius during a rare lull between the October 2011 Mi Casa Holiday Finale and preparations for his birthday in Chicago. He shares how years of planning and experience have turned an idea into a growing reality.
1200Dreams: For those of us who don't know, what is Mi Casa Es Su Casa Holiday?
JS: Let me break it down in two points. One. Mi Casa Es Su Casa Holiday Season consists of a series of themed destination events that lead to an explosive weekend Finale! The Holiday gives individuals an opportunity to take time out of their busy lives to celebrate for what ever reason they choose to celebrate whether it be a birthday, anniversary, new job, marriage etc. Two. The 2011 event was held in Playa del Carmen Mexico.
1200Dreams: Why Mexico? What inspired this trip to Paradise?
JS: Yes, the season finale was held in Playa del Carmen, Mexico. Playa del Carmen Mexico IS Paradise! There were several factors that brought this idea into fruition. My sister, Jenn (Jennifer Lynn Hurst) has been working in travel and hospitality for the past 17 years in Cancun, Mexico.
I've been producing events and traveling internationally for the past 10-20 years, so the idea of combining our industries was bound to happen. The idea and possibility of traveling music enthusiasts had entered our minds a few times over the years, but in 2009 was when it made sense to try.
Being one of my biggest fans, bless her heart, Jenn believed that my fans would travel around to different locations to see me. I thought that idea was a stretch, but we both agreed that maybe, if we picked one location, it could work. She first mentioned Cancun, but we also agreed that, although it was a great location and a short travel distance, it wasn't the right fit. My friend, Frank Orrall (Thievery Corp) had recently suggested that I check out Playa del Carmen, so we did some research. Shortly after, I played the Mosaic Spring Music festival in Raleigh, NC and met a DJ named Nickodemus. He was excited to point us to great contacts. The last major piece of the puzzle was what to name it. Jenn had a name stored in her head, but asked me what we should call it. I hesitated and she then said "I know, let's call it Mi Casa Es Su Casa". I had a big smile on my face and thought it was perfect. We were so excited, but felt like the name was not complete. I tagged on the "Holiday" and Jenn said "Yeah, like for any occasion you'd like to celebrate, we will help you". Jenn and I have always agreed that not taking time out for yourself is not an option.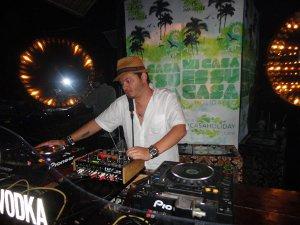 1200Dreams: Looking at the line up of artists for 2011, I've noticed that the range covers the US from one end to the other, with representations from places you wouldn't expect to find House, like Raleigh and Minneapolis. How did you discover these pockets of House to bring the talent to Mi Casa?
JS: After experiencing the Winter Music Conference (WMC) for the past 13 years, I learned that there are House music DJs in the smallest cities in the US like Kalamazoo, Michigan to the most remote towns in Europe like Royan, France. For many of the artists who have played Mi Casa Holiday, the House music enthusiasts in such small towns have invited them. From there usually starts a long lasting relationship.
1200Dreams: There was a Female DJ party over the Holiday weekend "It's Her Turn". With the increasing presence of strong female DJs up and coming in the House industry, how do you see this segment growing?
JS: Just to be clear, "It's her Turn" (Le toca a ella) is not limited to DJs and it's not limited to House, but rather female artists and quality music that makes sense for that particular line up. Being that the majority of artists were males in the first year, Jenn and I thought it was very important to create an additional platform for female artists. The title named by Jenn, "It's Her Turn" serves a very important triple meaning. It's her turn (as in time), her turn to perform (referring to all female artists), and It's her turn to be recognized (referring to all women). A big part of our excitement for this event is its limitless possibilities.
1200Dreams: What is your dream line up?
JS: I wouldn't quite term it dream because Jenn and I have been raised to believe anything is possible, especially if you can see it. In my opinion, line ups must have balance. There must be representation from the up and coming artist, while enhancing the profile of the A-list artist, but serve as inspiration for super stars. So, take the "It's Her Turn event for example. A line up that I see in the future would be selecting a young lady like Donna Edwards to open the event, followed by a few of our regulars like Sabine, DJ Ms Tabu, maybe slide in Celeste Alexander, with a sneak vocal performance by Julie Dexter to play the middle, then a special unannounced visit and performance from Sade, followed by a strong performance by someone like Lady Alma, followed by a women's appreciation announcement by Mistress Barbara and Justin Timberlake, then DJ Heather introducing a 30 second explosive monologue by Dakota Fanning, and a closing set by maybe DJ Baby. As you can see, we love to generate excitement. Just when you think you figured it out, there's a little twist.
1200Dreams: A tremendous amount of work goes into developing, building, promoting and planning a party, much less a 5 day event. How do you do it?
JS: Nine months of pre-production, a great staff, and truly understanding that it's not about any one person, but that it is about the possibilities of Mi Casa Es Su Casa Holiday!
1200Dreams: What have you learned over the last three years that you never thought you would know?
JS: I've learned that everything that I've learned in life up to this point can be applied to producing Mi Casa Es Su Casa Holiday. I used to tell my friends back in the day to not get down regarding their day jobs, but to instead think of it like "paid training" for what you really want to do. I completely understand why structure is necessary.
1200Dreams: Who is involved in putting Mi Casa together for the rest of us?
JS: Jenn and I believe that it takes both the Holidayers and Staff to make it all work. However, Jenn mainly works with the travel and hospitality in association with the team at IS Tours.I work with the entertainment and production in association with PEV. In addition to phenomenal support throughout the Global Soul House Music Industry, our Holiday Planners are responsible for organizing groups in various cities. Individuals such as Keith Evan work as both a Holiday Planner (L.A.) and an events/artist coordinator. Whereas, Adam Gibbons works as a Holiday Planner (Boston) and leads the design department along with Infinity Pro Designs on web. Mode is responsible for production design, while photography by Ron Balagot, visuals by Konyo, video by El Tigre & Stoptime341, on screen talent by Tasha Guevara and our Dance Ambassador is Conrad Rochester. Our on site marketing and promotions are lead by Kostax. Last, but certainly not least, R C (CidLevel 7) works as our head DAV pro and real time strategic planner.
1200Dreams: There was an International presence sprinkled throughout the weekend, with DJs from Toronto, Costa Rica and Hong Kong. How do you see this expanding for future events?
JS: Mi Casa Holiday is designed to grab the attention of every major DJ and artist in the world.

1200Dreams: What can we expect in 2012 from Mi Casa?

JS: Same dream, same team 🙂
1200Dreams: If you had to pick another location for the Mi Casa es Su Casa Holiday, where would that be? Ibiza? Minneapolis? San Diego? New York?
JS: The 2011 season saw Miami, Costa Rica, L.A., Detroit, Philadelphia, New York, and Playa Del Carmen. We've been scouting and considering locations to include to the Mi Casa Holiday Season since its inception, but the near future may see Columbia, Puerto Rico, Chicago, Las Vegas, Barcelona, Hong Kong, Boracay.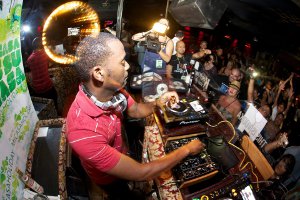 1200Dreams: Friendships are built and bonds solidified by the intensity of being together over 5 days in such a secluded way. What has been your most memorable experience with this type of group dynamic?
JS: Once the Mi Casa Es Su Casa Holiday Season Finale is over, it's amazing to see the growth and the family bond that has been developed and maintained throughout the year by those who met at Mi Casa. Once they all return the following year it truly becomes a family reunion.
1200Dreams: In addition to House Music, there was Yoga available and a Classic Hip Hop party. How do these compliment the Mi Casa es Su Casa Holiday experience?
JS: Yoga is a great way to start your day, especially on the roof top overlooking beautiful Playa del Carmen into the Ocean. Exprésate! is a community youth 
outreach for the arts in Playa Del Carmen that highlights the golden era of Hip Hop.
1200Dreams: During the Tuluum excursion, Oscar Poche (Open Bar Music, Media Services NYC) asked Jessica Bendig (The Joint, Media Services NYC) to marry him. How many other times has this type of romantic occurrence been inspired by Mi Casa?
JS: Oscar & Jessica are the second couple in 3 years. The first was Keith and Monica Chiodo Conklin.
1200Dreams: Any weddings?
JS: Keith and Monica met at Mi Casa Holiday 2009, engaged 2010, married 2011.
1200Dreams: Anything else you'd like to share? Any thoughts? Inspirations?
JS: The events and experiences that took place at this past Mi Casa Holiday Season Finale is exactly what Jenn and I envisioned four years ago when we decided to create Mi Casa Es Su Casa Holiday. Four years later, we are very excited to share the vision we are having at this time. Most importantly, we would like to see the concept of Mi Casa Es Su Casa Holiday become a time that everyone can experience whether they are on site with us or not. Let Mi Casa Holiday be a time for everyone to Love, Dance, Share, Sing, Give, Help, Encourage, Thank, and Inspire. Stay tuned!
1200Dreams: Thank you Julius for sharing your vision. We're looking forward to more exciting news.
To get a taste of the Mi Casa es Su Casa Holiday 2011, check out these videos and click here for more photos.