DJ OF THE WEEK 4.2.12: JUNIOR BOYS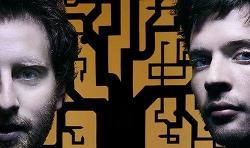 I'm almost positive that Jeremy Greenspan and Matt Didemus collectively known as the Junior Boys, consider themselves more producers than DJs. These two Canadian bred EDM artists love DJing but it's something that despite their love for it, is simply an extension of their creativity. And we're ok with that. We're not so strict with our DJ of the Week feature that we can't feature an artist that is more producer than DJ, in fact our first DJ of The Year was Deadmau5 and if you know him, he hates the idea most of us have of what a DJ is. But getting behind the decks and playing music does require a certain skill, and when you wield it as skillfully as the Junior Boys do, well, you simply must take notice.
Greenspan and Didemus met at a very early age, about 13 or so, and hit it off immediately. They went from sharing their love of music to creating it themselves. They both DJ'd local gigs as teens and eventually held down a residency at a local club. Greenspan had released a track with fellow hometown producer and friend Johnny Dark as a teen, but as he freely admits they were nothing more than a few "bad" Drum and Bass and House tracks. It wasn't until Greenspan and Didemus came together and took on the Junior Boys name and their music seriously that they began to make moves. They haven't let up since.
As producers the Junior Boys have quite the history. From the singles 'Birthday' and 'Last Exit' both from their first EP, to 'High Come Down', the 'Dead Horse EP' to their four albums 'Last Exit', 'So This Is Goodbye', 'Begone Dull Care', and their latest 'It's All True' they have created quite an impressive body of work. To describe the Junior boys sound is not as easy as one would think. Some say they are Electropop, others synthpop, yet listen to their music and you'll hear R&B and Hip Hop influences, as well as Punk, Disco, Electro House and classic Chicago era House sounds among many others. In fact, it's best to stop trying and just enjoy what they create, because after all is said and done, whether it's a guitar or a drum set (which you're more likely to see them playing on stage), a piece of electronic equipment, or a turntable, these two cats are real musicians.
Which leads us back to their work behind the turntables. Whether rocking it at a major festival or a more intimate setting, the Junior Boys impeccable musicianship shines through in their DJ sets as well. They may not be your average DJs, but they have all the ingredients, along with a slew of outboard gear, noise boxes, triggers, and more. More importantly, the vibes they create will take you there, and at the end of the nite, that is all that matters.