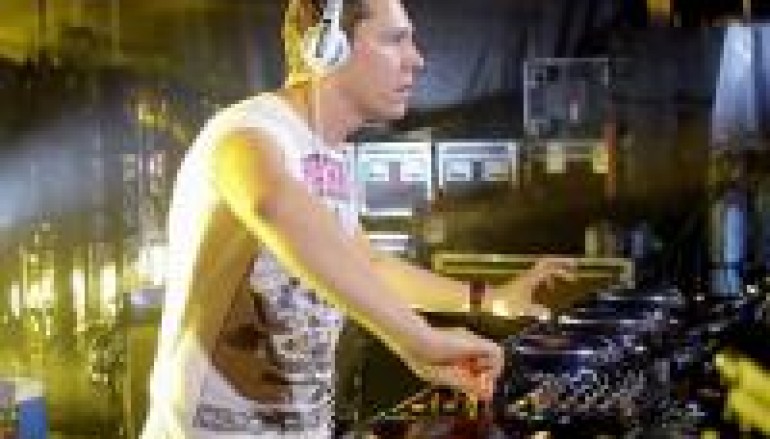 DJ OF THE WEEK 4.9.12: TIESTO
Last week DJ Sneak resurrected the whole "real dj" vs "fake dj" nonsense when he felt compelled to call out Swedish House Mafia by calling them "dj actors." I chimed in and added my opinion on it, so I won't delve into it any further here, but it did get me to thinking. What other big name DJ out there that has real talent and passion for what he does of course and that we haven't featured yet, riles up and gets under the skin of the purists among us. Why, we didn't have to go any further than one of the biggest DJs in the world, the one and only Tiësto!
Tiësto is one of those few individuals to reach a level of fame so huge, that even people who have no idea what he does are familiar with his name. Of course, when one reaches this level of fame they also garner a substantial number of haters. It's usually not a reflection on the said superstar himself or the quality of whatever made them famous. I mean look at Oprah, she practically shits gold yet there are people who hate her simply because she is so damn famous. Tiësto falls in this category. But who is he anyway?
His government name is Tijs Michiel Verwest and he was born January 17, 1969 in the Netherlands. He began DJing school parties, birthdays, and the like at the young age of fourteen and by 16 was already holding down his first residency. Note to purists: this being 1985 or so, he was very likely DJing on vinyl records, which means he is a "real" DJ. Anyway, Tiësto worked hard at mastering his DJ skills and became known for his long sets at his local venues, but his love for music could not be contained to the DJ booth and by the 90's he was already making inroads as a producer releasing tracks under various names such as Allure, Da Joker, DJ Limited, Drumfire, Stray Dog, and many more eventually settling with the name Tiësto, a name based on a nickname he had as a kid. Tiësto had been spinning a varied selection of music including House as a DJ, but when he hit the studio his first works were hardcore Trance, and what is known as Gabber. In combination with his growing DJ fanbase, it was only a matter of time before something big happened to the young Dutch DJ.
When the 21st century began, the world was ready for something new and though we didn't realize it at the time, Electronic music was poised to return to pop culture prominence and Tiësto was right there, at the epicenter of it all. To go over what Tiësto has accomplished since would take too long, besides, those who think fame equals selling out would only hate him more, but, we'll mention a few things at least. For instance, Tiësto became the first DJ to give a solo stadium concert. In fact, he was the first DJ to sell out a stadium for over 25,000 people, and again, that was for a solo performance – just him on the decks and the crowd! Not only was he commissioned to create tracks for the 2004 Olympics, he also performed live at the Opening Ceremony in Athens, Greece, the first time a DJ was given this honor. Speaking of honors, all this success has not gone by unrecognized. Tiësto has been bestowed with over 40 awards for his dedication to EDM, including his GRAMMY nomination for Best Electronic/Dance Album for the album Elements of Life.
But he's just a fake DJ playing pre-recorded music at sets? I think if one puts aside their preconceived notions of who Tiësto is, even what his sound or genre of preference is, one would be surprised with the level of musicality he possess. Tiësto makes it his mission, whether in one of his many mix compilation series' or live in a packed stadium, to take you on a journey with his sets, and his ability to do so time and time again is not the result of some studio magic, but comes from his deep love and an intimate understanding of the music he plays. You might not like Trance, the genre he is most associated with (he has been returning to his House roots lately) or him, but Tiësto has proven that he's the real deal, and you gotta respect that.
Keep an eye out for Tiësto's next project, the second installment of his Club Life series, Club Life: Volume Two Miami dropping April 24, 2012