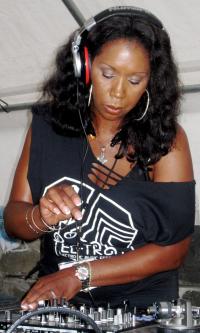 DJ OF THE WEEK 1.27.14: DJ MINX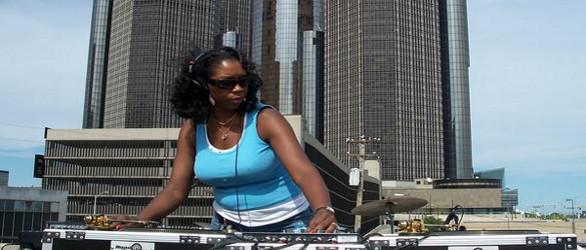 I came across a March 2013 article about Women DJs. In reading over the article, I noticed that the majority, if not all, had their start or are deeply involved in the Fashion Industry. In the same article, some were listed as "high in demand". The NY Times did a more recent article in November 2013 titled "Women Edging Their Way Into the D.J. Booth", bringing a more direct reality that women DJs still have a long way to go to catch up to their male counterparts; "Only a handful of women appear at megafestivals like New York's recent Electric Zoo, which has booked about a dozen acts with women over its five-year history. There has yet to be a woman on Forbes magazine's list of the highest-paid D.J.'s." the article shares.
None of that is reflected in the lack of work ethic, production releases or talent. It's a reflection of numbers. There are simply more male DJs than there are female DJs. This, of course, brings us to this week's DJ of the Week. In researching the subject for this week's article, I was looking for that gem, the one that puts in the work without making the lists. This brought me to several worthwhile women DJs. One in particular struck me: DJ Minx (Detroit – Women on Wax).
I had the opportunity to see DJ Minx at The Movement Festival on the Detroit Stage in 2011. Impressed by her stage presence and confidence behind the decks, I began to follow her. She didn't depend on glitz or tricks, Minx used skill, talent and experience to bring life to the dance floor.
DJ Minx was inspired to spin by the famed Music Institute in Detroit. Her style is described as funky, powerful house, with a smudge of grace. For two years, Minx engineered and hosted "Deep Space Radio"- an electronic music show on a Detroit's WGPR radio station. The show was headed by the innovators of techno music: "Magic" Juan Atkins, Kevin "Reese" Saunderson, Eddie Fowlkes, and Derrick May, while doing a weekly radio program at the University of Canada on CJAM 91.5 FM called "Steamy Windows" that featured house music by various local and international artists.
As a resident of world-renowned Club Motor, Minx opened for Basement Jaxx, Doc Martin, Cajmere, and Afrika Bambatta, just to name a few. She has also played alongside Richie Hawtin, John Acquiviva, and Timmy Regisford at various venues across the country. In December 1996, Minx founded Women on Wax, a collective of lady DJs from the Metro Detroit area.
Being a featured performer during the first-ever Detroit Electronic Music Festival (D.E.M.F.) in May 2000, had an incredible impact on Minx's career. Since then, she's played at Toronto's Film Lounge, Club Ohm in Portland, Deep Sugar in Baltimore, Club Air in Japan and has been featured on Much Music's Electric Circus weekly television Dance Show. Minx has played a variety of local and international clubs in Paris, Berlin, Cancun, New York, Switzerland, Tokyo, Spain and Belgium.

Minx began producing music in 2001 and created her own record label – Women On Wax Recordings. WOW has served as a vehicle to present many talented artists and producers to the world, including Diamondancer, Pirahnahead, Diviniti and Eva Solas. Minx' growing success in various aspects of music, led her to asked to be a featured presenter at the "Roots of Techno Conference" held at Indiana University in 2006. During the conference she shared her wealth of knowledge on topics such as the history of electronic music in Detroit, efficiently running a record label, and techniques for being a successful DJ.
Currently on the Bang Tech 12 roster, Detroit's "First Lady of Wax" is working on the next in a string of releases on W.O.W. Recordings. Minx has expanded by creating a sub-imprint of the label called W.O.W. B.A.M. (Women On Wax Bangin' Ass Music). Besides releases on both of her labels, she also has a single on Minus. "A Walk In the Park" was remixed by Josh Wink, Matthew Dear, Magda and Ricardo Villalobos. She created "Undaground Boogie", which was featured in Richie Hawtin's DE9 Transitions mix. She has worked on remixes for Trisomie 21 (Paris), Soiree Records (Detroit), West End Records (New York), Psychostasia Recordings (Detroit), United Music (Paris), and Whasdat Music (Detroit). Recently, Minx partnered with Jerry the Cat to establish Skyloft Productions, where the two work together to produce music for various artists in multiple genres.
I had the opportunity to work with DJ Minx in 2013 on a release on Liberate Recordings. Her professionalism and vision are a true testament to what makes her a driving force in the Industry.
BONUS VIDEO