DJ OF THE WEEK 10.1.12: JAYMO & ANDY GEORGE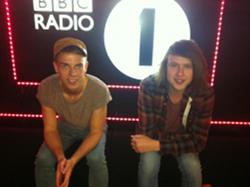 While many of us used our Sunday afternoon to recoup from our Saturday night debauchery, halfway around the world in the beautiful island of Ibiza an islands worth of party people were bidding the 2012 Summer season goodbye. All the clubs on the island were hosting their own big bashes with some of the biggest DJs on the planet, such as Avicii, Tiësto, Swedish House Mafia, David Guetta, Pete Tong, as we toiled away doing our Sunday chores. Sometimes, life just isn't fair.
Performing on the Sunset Terrace of the We Love closing party this year was a duo whose name might not be as familiar yet, but will surely be a household name soon enough. We've been keeping an ear on these two for quite some time now, actually, it's kind of hard not to. Though collectively their age might not equal mine, the duo has accomplished a lot and we couldn't wait to feature them in DJ of The Week. Their name is Jaymo & Andy George.
Individually, Jaymo (Steve Jameson) and Andy George each had a few undergrounds hits under their belts. Once they met in 2008 though it was a whole new game, and they have since laid down the foundation of a mini empire.
They first made a name for themselves as a group on the strength of their Moda brand parties. Thrown in random locations such as warehouses and old theaters, the young duo quickly earned a major following. So major in fact, they were invited to record a live Essential mix for Radio 1, one of the youngest acts to be invited to do so, ever. An honor indeed, but more so was being invited to host their own show on the world famous station.
Jaymo & Andy George are known to play very varied and diverse sets, from House and Nu Disco to Techno and more the duo has a deep understanding of the music and love taking their listeners for a ride. Of course, this is reflected in their collective works, from their remixes for hire, to their own original productions, and how they run their labels – yes, that was labels, plural.
Not content creating hits with just one label, the duo have been busy running not one but two record labels. Moda Music focuses on Nu Disco and eclectic electronic and Indie music, while Moda Black deals with more harder edged big room EDM sounds.
J & AG as they are affectionately known by their fans have put out remixes for acts such as Kidda, Fenech Soler, Passion Pit, Polarsets, and more. Each more different than the last. As for their own productions, namely their three EPs 'Hold Me Back,' 'Night Music,' and 'Hump and Grind,' the sounds are meant to be heard at clubs, loudly.
2012 saw the release of not only the aforementioned Hump and Grind EP, but also their first full length album, 'Moda Black.' Moda Black is a slamming collection of 15 tracks that easily defines what the next few years has in store not only for this group, but for EDM music in general.
That's quite a big statement indeed, but keep in mind, these are the same guys hand selected by Pete Tong himself to fill in for him on his Essential Mix radio show whenever he decides to call out. These are also the same duddes who hold down a residency at We Love, Space, and Fabric London. Plenty of DJs pop up on the scene every nite, but to score these types of gigs says something, and it says it very loudly. Just one listen to any of J & AG's work and it isn't hard to tell they possess something special, a mature understanding of the sound that goes well beyond their actual years. Either that or life truly isn't fair at all.