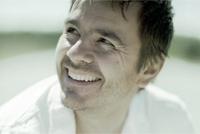 DJ OF THE WEEK 2.14.11: LAURENT GARNIER
Laurent Garnier, his name sounds like that of a high-end fashion designer some artist should be wearing on the red carpet of the Grammys. Thankfully, he's a DJ who has been providing designer sounds for our ears for over 20 years.
Originally, from France, Garnier began mixing as a teen before moving to England in 1984. This was during the period that House music was first sweeping through the country. Everything was changing, and Garnier was at the right place at the right time.
Within a few years, Garnier was spinning at the Hacienda club in Manchester and making a name for himself as one of the first DJs to spin the new House sound coming out of the States. Little did he know the influence and the integral role he would play in the Electronic music scene in Europe and the rest of the world.
Despite a small break he took in 1988, due to France's military obligations, Garnier has been at it non-stop ever since. To call him prolific might be an understatement. He released his first album 'Shot In The Dark' in 1995 and has followed that up with eight more, including too many singles, remixes, CD mixes, and many other productions to count.
More so than his success as an artist and producer, Garnier's work behind the turntables gets the most attention. He is world famous for his marathon sets, and is known for playing entire weekends, straight. Of course, that's not a regularly scheduled occurrence, but you can still catch him doing his thing no matter where you are. Garnier has performed on almost every continent, spinning in the biggest clubs, festivals, and events in the world, chances are he is spinning records somewhere, right now. In fact, as I'm writing this he is in Osaka, Japan. The man does not quit, and once you listen to the following mix, you'll know why we'll never quit on him.