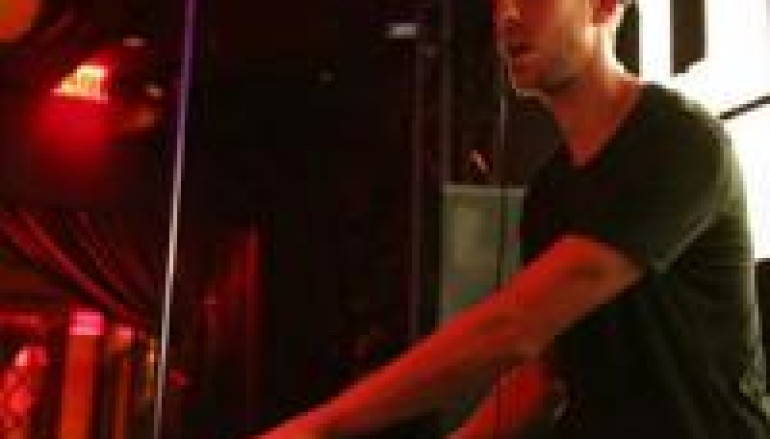 DJ OF THE WEEK 2.25.13: CALVIN HARRIS

I think it's kind of appropriate that as I write this, the Oscar's are on because, this week's DJ of The Week is more than familiar with awards ceremonies. In a career that began just a few short years ago, Calvin Harris has racked up more nominations than artists twice his age, and he's won a few of them awards as well.
It's no surprise, really. From the moment Harris dropped his debut album, the gold selling 'I Created Disco' way back in 2007 to his latest album, the highly acclaimed '18 months', he has been everywhere! In that time, Harris has worked with not only the biggest names in the Electronic music scene, but the big money makers of the pop world as well, such as, Kylie Minogue, Cheryl Cole, Kesha, and of course, his collaboration with Rihanna "We Found Love" has been such a massive track you literally had to be living on a secluded island to not have heard it, at least a thousand times, every day, for the past year. Ok, you get the point, but that's how big this dude is right now.
But who is this superstar DJ that can do no wrong? The quick run down goes like this. Harris was born in Dumfries, Scotland in 1984. He originally wanted to be a Soccer player but upon discovering the joy of music, he quickly changed paths. Like many aspiring musicians, he first began by making music in his bedroom, which apparently he did so much he claims it made him anti social. In 2002, he released his first two singles 'Da Bongos' and 'Brighter Days' under the name Stouffer. In 2004, he dropped the single 'Let Me Know,' then things were a little quiet until 2007, when you can say he left that bedroom behind for good.
Harris has no time for being anti-social these days. Not only is he on everyone's radar due to his massive success, he keeps himself there with his social media presence. Just click on over to any of the major social networks and he's there: Twitter, Facebook, Instagram, YouTube, Soundcloud, 1200Dreams, … hey, we can dream, and it's only a matter of time.
Harris of course, is not letting up. You can be sure he is in the studio working on his next projects and he is definitely hard at work curating new material for his label, Fly Eye records which he founded back in 2010, and for which he has big plans. Oh, and there's the small announcement he just made earlier this week, his new exclusive residency in Las Vegas at Hakkasan. So much for being anti social.
Since they're still on, I mean, in the spirit of the Oscar's, here is a list of all the awards Calvin Harris has been nominated for and won in his still young career.
2007
BT Digital Music Awards – Best Electronic Artist or DJ – Nominated
Q Awards – Best Breakthrough Artist – Nominated
2008
XFM New Music Award – Nominated
Shortlist Music Prize – Nominated
Popjustice £20 Music Prize – "Dance wiv Me" (with Dizzee Rascal and Chrome) – Nominated
2009
The Music Producers Guild Awards – Best Remix – Winner
BRIT Awards – British Single – Nominated
NME Awards – Best Dancefloor Filler – "Dance wiv Me" (with Dizzee Rascal and Chrome) – Winner
2010 BRIT Awards – Best British Male – Nominated
2012
MTV Video Music Awards
Video of the Year – We Found Love" (with Rihanna) – Winner
Best Electronic Video "We Found Love" (with Rihanna) – Winner
Best Female Video – Nominated
Best Pop Video – Nominated
MTV Europe
Best Song – "We Found Love" (with Rihanna) – Nominated
Best Video – "We Found Love" (with Rihanna) – Nominated
Best Electronic Act
American Music Awards – Favorite Electronic Dance Music – Nominated
1200Dreams DJ of The Year – Nominated
(seriously, he was one of our top three choices)
2013
Grammy Awards
Best Short Form Music Video "We Found Love" (with Rihanna) – Winner
Best Dance Recording – "Let's Go" (with Ne-Yo) – Nominated
BRIT Awards – Best British Male – Nominated
NME Magazine Awards – Best Dancefloor Anthem Nominated (results not in yet)