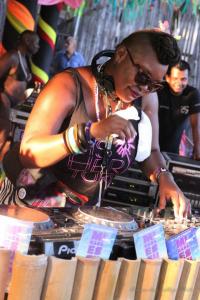 DJ OF THE WEEK 3.10.14: SABINE BLAIZIN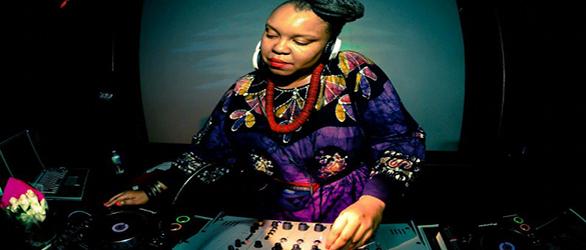 A DJ in motion stays in motion. And such a DJ keeps everyone around them moving. When that motion transfers from the dance floor to the world at large, on a variety of cultural platforms, what you have is a Cultural Arts "actionist". Not complacent to just keep beats moving, this week's DJ of the Week has built a steady momentum and following that touches through music and carries on into social good.
Bronx NY born Sabine Blaizin has a passion for social change. As a social entrepreneur she has been creating projects and business ideas through a monthly party, Brooklyn Mecca, and Oyasound, which gives homage to women in the music business, and most recently LAKAY SE LAKAY: Home Is Home, which is a project that seeks to be a multimedia hub for emerging cutting-edge Haitian diaspora (of Haitian descent living in Haiti & abroad) innovators. As if that isn't quite enough, Blaizin joined Ocha Records in 2012 first as Brand Marketing Manager then Director and DJ/Producer. In addition, she is a resident DJ at Ocha Records Bembe Party (NYC). Add her full time gig as Public Allies NY, with the focus that "everyone leads". The program, for which Blaizin is a 2001 alumni, works to recruit young leaders and enlist them in a 10 month leadership/apprenticeship program.
Blaizin began her DJ path in 2006 and spins Global Soul Music: House, Afrotech, Afrobeat, Haitian Roots, always looking for a creative outlet that inevitably leads to giving back to the global community that has embraced her vision, passion and drive. Over the last two years, in addition to playing throughout the US, her passionate sensibilities have moved dancers in Montreal, Toronto, Dakar, Haiti, Cancun and Playa del Carmen. As a matter of fact, after witnessing her play at Mi Casa es Su Casa Season 5 in 2013, she was one of the features for 1200Dreams WeekendMix. Blaizin has played with Oscar P, Stan Zeff, Osunlade, Carlos Mena, Helen Ting, Jose Marquez, just to name a few.
I've had the pleasure and honor to share a dance floor with this innovator of cultural and social good. And as many can attest, she moves with equal passion behind the decks as she does in front of them. As of the writing of this piece, she's DJing at The Shelter's Green Room (NYC), alongside DJ Manos and DJ True. On March 1, 2014 she was interviewed and featured on Legacy Of 1804 and on March 15, she serves as the Caribbean Cultural Center (CCCADI) Panelist for Women of Power 2014: The Art of Being a Woman event, the focus being to "honor the Diaspora Arts Warrior-Women, the bearers of creative genius who forged the philosophy, praxis and sacred power that illuminate our global cultural aesthetics".
In spite of, or because of it all, Sabine Blaizin maintains a quiet steadiness about her, but don't be fooled by her quiet demeanor. She is firm in her convictions and makes no apologies for them. When asked in a 2012 interview about what House music means to her and why is it important to stay true to her convictions despite fleeting trends in the industry, she answered "Simply … a spiritual thing. It has personally been a conduit, reconnection and expression of my African ancestry. An extraordinary convening of global souls".
See what I mean about motion?
BONUS VIDEO