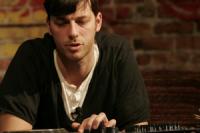 DJ OF THE WEEK 4.23.12: DIXON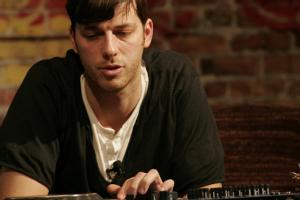 There's a lot of vitriol being thrown around these days over the difference between a real DJ and a fake one, an argument I have gone on record saying is a pointless waste of time. Not only is it based on ignorance, but these self appointed stewards of DJ culture are just as narrow minded as the ones they claim are fake. For example, how many of them would stop to listen, let alone appreciate a DJ when he doesn't fit their mold? Let me introduce you to Dixon.
German born Dixon, real name Steffen Berkhahn, is one of the few world renowned DJs these days to reach the mountaintop based in greater part on his DJ skills. He got his start in the early 90's, a time when the Internet, file-sharing, and social networks were not even a dream. He began by working his way through the Berlin dance scene where he would play 6, 8, 10 hour sets at various venues and residencies, where he learned to read crowds, bring them to their knees, then lift them up again by giving them exactly what they needed to feel; he more than succeeded. All the more surprising, is that he did this with a repertoire made up mostly of House music in a town known more for its love of all things Techno. Needless to say, Dixon's skill has been rightfully recognized and he tops DJ lists every year.
Dixon has released a few noteworthy mixed compilation CD's such as his first "Off Limits" in 1999, "Yoga Sessions: Drawing From The Roots," in 2005, and two of his most critically acclaimed 2009's "Temporary Secretary," and what he claims is his last ever, 2011's "Live At Robert Johnson Volume 8." One listen to any of these and you'll quickly realize, Dixon is not your average DJ.
There is still a distinctive German influence in his works. He leans unapologetically towards a dramatic and emotive feel, but there is also that metallic resonance, an almost robotic -not soulless but more technological- feel typical of German productions. All this results in very highbrow works of art that take you in unexpected directions not typical of your average mix. Take for instance Live at Robert Johnson, he begins the mix with a hypnotic, dream inducing ambient sound-scape with not even the slightest vestige of a beat; it's not until the 20 minute mark that he introduces the first kick into the dream world he has so expertly enveloped you in.
Works like these made it clear early on that Dixon, though a true DJ inside and out, was even more. He began to expand his resume not by becoming solely a producer like most DJs do, but as an A&R agent. Over the years he has helped bring new talent to the forefront, helping define the sound of labels such as Sonar Kollektiv and their sub label Recreation Recordings, and later on Innervisions, which he founded and still runs.
On the production tip, there are his remixes for acts such as Femi Kuti, AtJazz, Jazzanova, Carl Craig, Ian Pooley, Tensnake. and collaborations such as "Where We At" with Derrick Carter, "Blade Dancer," with Tokyo Black Star, and many, many more. He has done quite a bit of work under the moniker Wahoo as well, a duo he formed with Georg von dem Bussche aka George Levin, most notably their album "Take It Personal," and the hit "Make Em Shake em."
Of course, this is just a taste of Dixon's many contributions to EDM, but as much fun as he has in the studio and working as an A&R agent, DJing is his first love. Which brings us back to the beginning. Listen to the following set, and tell us, do you think Dixon is a real DJ for you? If you think not, you might want to expand your horizons a bit. And you might want to begin with Dixon.