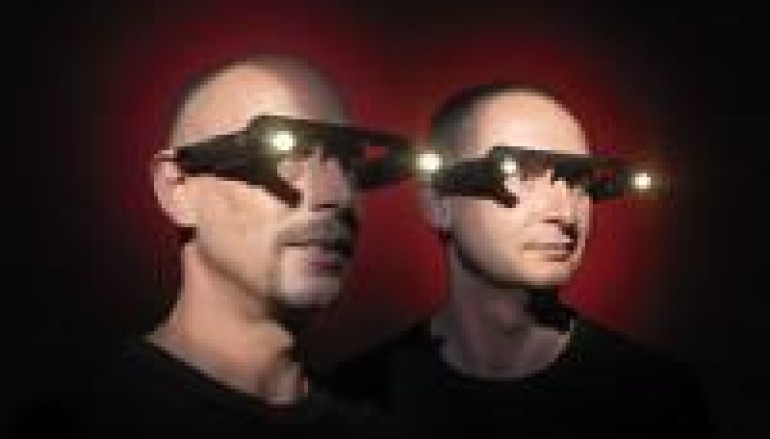 DJ OF THE WEEK 7.2.12: ORBITAL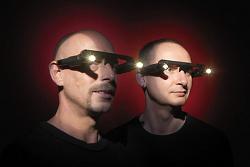 All this talk lately of DJs being merely buttons pushers has gotten a little bit out of hand. Fact is, the true party people know there are many more talented DJs behind the decks than the opposite. Which is why when we went looking for a DJ that turned this silly notion on its head, we found two.
There's no way to quickly cover all Phil and Paul Hartnoll, two brothers from Sevenoaks, England have accomplished in their long careers but, we'll give it a shot. First, the basics: They fell in love with House music at a young age and began by making music in their bedroom, using their fathers four-track recorder and his cassette player to record their first release. The song was named "Chime" it was released on Oh Zone Records in late 1989. It went on to become their first hit and an anthem of their countries rave scene. In fact, when looking for a name to call themselves they chose the name Orbital but, not because of their space age sounding music but after the orbital motorway (what they call a highway in England), which all the ravers counted on to get to their secret parties, some of which were held under bridges and even abandoned tunnels.
After Chime hit the charts, Orbital quickly became a hot item. They followed up with a series of singles and EPs, and a self titled album which was more a collection of previously released tracks. In 92' they hit the charts again with the track 'Halcyon' off their EP Radiccio, one of their most recognized tracks even to this day. In 93' they released their second album, also self titled (the first is commonly known as "the green album" and the second "the brown album" based on the color of the album sleeve) and once again hit the charts, staying there for 15 weeks on the power of tracks such as 'Planet of the Shapes,' 'Remind,' and 'Halcyon + On + On,' which is just as evocative a track all these years later.
It was all uphill for the brothers over the next few years. They would go on to land on the charts numerous times throughout the 90's, releasing four more albums before the century's end, remixing for other big stars, and even contributing to two movies. They even had a political side. As much as they were known for their creative and expansive sound, they didn't let fame dissuade them from getting political with their music -Halycon was dedicated to their mother who struggled with an addiction to Halcion, a tranquilizer, and their remix of "Are We Here?" titled "Criminal Justice Bill?" was their stance against the Criminal Justice and Public Order Act 1994. This bill by the British parliament actually has a section in it specifically geared towards rave culture, or at least trying to kill it. Orbital was proud to come from this culture and defended it. They even did a track "The Girl With The Sun In Her Head" that was recorded in a solar powered studio.
Despite their political nature, Orbital established themselves as not only legends of the rave scene but superstars in their country and beyond -they played at Woodstock 94 in New York, one of less than a dozen electronic acts invited to the three day event. And they kept the momentum going strong into the 21st century. More albums, more singles on the charts, more remixes, more movies, more electric performances -Q magazine listed them as one of the "50 Bands to See Before You Die.' They could do no wrong. Then in 2004, they broke up.
How do brothers break up? They must've had a big blow out to call it quits after 20 years? Well, turns out it was a lot simpler than that; they each just wanted to do other things. Thankfully for their fans and the world of music, their separation was short lived. Paul released a number of tracks and a solo album, 'The Ideal Condition', and Phil released an album, 'Madness and Me,' with a new duo he formed with Nick Smith named Long Range.
In 2009, they made a special appearance together at The Big Chill festival called "20 years after Chime." So successful a reunion it was it lead to more gigs and yet more gigs after that. And it's easy to understand why. Despite all their studio accomplishments and all the accolades and awards, it is on stage where Orbital truly shines. Yes, the lite shows are amazing, the videos captivating, and yes, they play mostly their own music creating it and morphing it as they play live but, they are DJs nonetheless, so seamlessly merging the functions of DJ and producer that you can't tell where one ends and the other begins. What you can tell however is that there is talent there; they disprove the notion that DJs are nothing but talentless button pushers and that gives us hope no matter what some naysayers believe.
Orbital – Bloc 2012 – Warmup Mix
Orbital – Live at Glastonbury Festival 2010 Orbital released their return album "Wonky" in 2012. Get it here. http://orbitalofficial.com