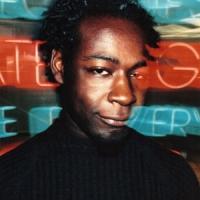 DJ OF THE WEEK 8.30.10: A GUY CALLED GERALD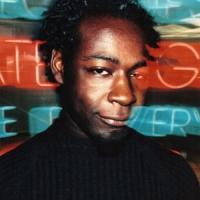 As a veteran DJ, producer and more, Guy Called Gerald has had many chances to direct his productions towards a more pop friendly sound yet, after 25+ years in the game, he keeps his work as grounded and as raw as when he first began.
And when exactly, was that? For GCG, it all began in the 80's back when he was sneaking into clubs at 14 to dance the nite away in some of Manchester U.K's underground clubs. Eventually, he made the transition to DJ, and then once he managed to purchase a drum machine, began producing his own tracks.
In addition to the material he would simply give away, GCG had a minor production under his belt with the 12″ release "Wax On The Melt" a single that resulted from his collaboration with some local DJ's (they later formed the group 808 State) but, it wasn't until he released "Voodoo Ray" that he burst upon the scene. A massive hit, it propelled him into the spotlite and put his name in lights, it also helped establish the Acid House sound.
Throughout his entire career, GCG has influenced countless DJ's and artists and helped bring forth many of the dance genres we now love so much yet, many don't know his name. It doesn't help that once he felt the sounds he popularized were being diluted by the labels he went back underground, all but disappearing from the media's eye. GCG was busy however; he just wasn't trying to please label bigwigs. He founded an underground dance party and eventually his own record label, both intent on showcasing the best in raw and at the time, new underground sounds such as Jungle, Breakbeat, and much of what we now know as Techno and Drum n' Bass.
You have to admire how GCG has always operated on his own terms and refused to compromise on his art. This is not to say he's stuck in time or in some non-creative place. As is evident from his career, he is not afraid to experiment with different sounds, genres, or instrumentation; he is simply comfortable with himself and doesn't care about following trends. If you don't like it, he simply doesn't care, as he puts it, "I refuse to compromise or follow trends when it comes to my sound. My music is purely for entertainment." In other words, if you don't like what he offers, you can go elsewhere. I suggest you stick around though, you just might learn something.
OFFICIAL SITE: