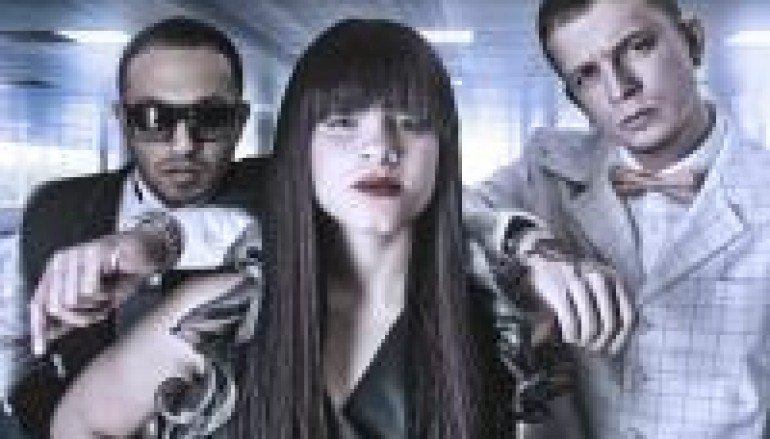 EXCLUSIVE INTERVIEW: SIDEKIXX – PUTTING NEW YORK BACK ON THE MAP

When searching for new music and artists, whether in an effort to expand my musical tastes as an individual and a DJ or professionally as a writer, I tend to cast a wide net. From the farthest underground scenes across the pond to the deepest reaches of the net, I search far and wide to satiate my musical needs. As you can imagine, this has served me well, expanding my repertoire as an individual and as a DJ and the type of content I write about here on 1200Dreams, but like everything else in life, there is always a con to the pro. When you look beyond, sometimes you can miss what is happening right beneath your nose.
Recently, I have been making an effort to feature artists from my own backyard, New York City. Not only is NYC the biggest and baddest city in the history of mankind, it has fallen off the map as far as being a hotbed for emerging talent in the dance music world. It seems that these days the biggest DJs and artists are from Germany or Sweden or some other far flung country. Of course, there are plenty of DJs and artists that continue to emerge from here, but it seems to me they are increasingly overshadowed by all the talent that comes from elsewhere to record and perform here. Overgeneralizing a bit? Perhaps, but that's how I feel, so you can imagine how thrilled I was when a friend, my barber in fact, sends me a link to a new video from a trio based not only in New York, but in my own backyard. Literally. They actually record in the studio in the back of the barbershop (best barbershop in the BX, I tell you). One of them lives around the corner, the other two not much farther away. Of course, this wouldn't be worth a story if they weren't any good, and let me tell you, they are, and then some.
The trio known as the Sidekixx is made up of Queen Sessi, the sole female of the group, Nick Ralph the rapping aficionado (originally from California but now living in the BX), and Kool Kris the producer who more than lives up to his namesake. The Sidekixx are not only good, but in classic New York fashion, they are pushing the envelope – actually they're going to shred it to pieces.
Kool Kris' production is not only tight but varied, he can keep it lean and still bring it home like he did in 'High Five Porcupine' or bring it hard with the big room sound popular in EDM these days and which you can hear in their track 'Turn it Up.' All the while Queen Sessi is blessing the tracks with her vibrant and energetic vocals. Nick Ralph backs up Queen Sessi on these two tracks, their only officially released tracks so far, but just you wait, this cat is fresh, and I don't say that just cuz he's all tatted up and wears big rope chains, nah son. Peep out his freestyle video below, this cat has skills. It takes him a while to warm up in the vid, hey, it's a freestyle, once he does however it suddenly begins to dawn on you just how talented he is and the potential he and by extension, the entire trio posses.
I recently had the pleasure of meeting the Sidekixx, in front of the barbershop no less, and I am happy to say that the persona they present in their videos is the real deal. They already have that air of confidence familiar among artists, but they are down to earth. As you can imagine, being an independent group with no record deal their grind is in full effect; they are constantly hustling, recording new material, performing in local venues and increasingly venues farther away; hungry and dedicated to their craft, it is only a matter of time before they are recognized and dare I say, put New York back on the map. As you can tell, I'm stoked, but one listen and I'm sure you are going to be as surprised as I was. Now without further ado, I introduce you to the Sidekixx.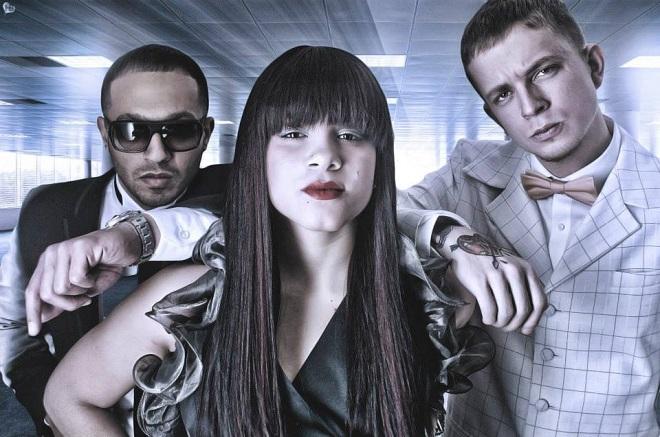 1200Dreams: So, let's get things started, tell us your origin story, in what secret lair did you meet?

Nick Ralph: It was a dark and stormy night in November when I flew into NYC via California. After months of hustling Europeans for quarters in Time Square, I started working in the club promoting business.
One evening, a mysterious gentleman approached me in a dark alleyway on 47th street between 7th and 8th Ave. and heard that I had the ability to rhyme words off the top of my head, so I did, not once, but TWICE to his (and onlookers) utter dismay. After that, we headed to his secret location in the Bronx and started to record uptempo pop records. Then along came Queen Sessi….
Queen Sessi: Funny how we met. Who would have ever thought that a local barber could have been my connection to two fantabulous individuals I call my angels. I was looking to record a demo at the time and within a few weeks of working together they decided to add me to their team. I believe from that day on it has been nothing but great success.
Kool Kris: I met Nick in the club business, one of our co-workers introduced us and told me he "rapped" so I told him to spit a little something and he did and it was dope. Later that morning at 5am when we finished work, I invited him to my studio and we started to create magic.
A few months later I was introduced to Sessi through my barber, Tone. She wanted to record a demo and we "The Sidekixx" were going to make that happen for her. We did a record called "Mira White Boy" and instantly there was a connection between all of us in the studio. We ended up making Sessi a part of the group and we never looked back.
1200Dreams: I imagine among the three of you there are a lot of influences in pop culture, house music, EDM, and beyond, can you name some of your biggest ones as a group?
Nick Ralph: We always want to stay relevant, but at the same time have a unique sound. All of us come from different backgrounds, but my main influences are Tupac, John Lennon, Frank Sinatra and then in electronic music Armin Van Buuren, Ferry Corsten, DJ Tiesto to name a few.
Queen Sessi: Growing up I was a strong R&B lover. Legends like Whitney Houston and Donna Summer have inspired me to share my greatness of music to the world. My biggest role model is Madonna. In the pop and EDM world DJ Benny Benassi, David Guetta, and Calvin Harris are my favorites.
Kool Kris: I grew up in an era of House, Freestyle, and Hip-Hop, so I have an ear for a wide range of music. Some of my favorite artist are Notorious BIG, Jay-Z, Todd Terry, Afro Jack, and Swedish House Mafia.
1200Dreams: OK, straight up, how do people react when you tell them that you are all from the Bronx, New York?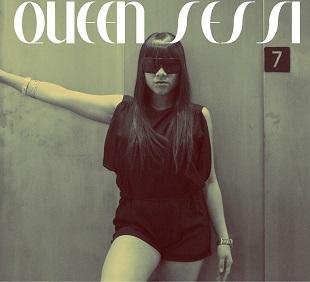 Queen Sessi: I am not ashamed of where I come from. Even though the guys were not born and raised here like I was, I represent for my city. They say NY is where the stars are born and people love us that's what matters<3
Nick Ralph: Coming from California I have a different view of The Bronx and a respect for it. I see the people who are from The Bronx or from New York in general who are surprised and show love when we are out of town.
Kool Kris: I actually grew up all over NY not just the Bronx. I currently live there now but people respect it. The Bronx was the birth place of hip hop and I'm sure had a VERY big influence on house music as well.
1200Dreams: Kris your skills as a producer are pretty advanced, when did you first know this is what you wanted to do?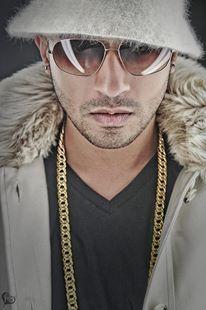 Kool Kris: I started Djing at 10 and started producing at 13. I saw the movie Juice with Omar Epps and Tupac and I was amazed at what two turntables could do. I knew from there that, that's what I wanted to do.
1200Dreams: Queen Sessi you have a very good voice, when did you first begin singing?
Queen Sessi: Aww Thanks <3 The first time I grabbed a mic was when I was 5 years old. I remember my dad would call me in his office downstairs and tell me to sing Selena's songs. He thought I sounded just like her. From that day on my parents enrolled me into pageants and talent shows. The first song I performed was 'Dreaming of you' Selena.
1200Dreams: Nick Ralph, dude, you're sick with the freestyle! Can we expect to see more of that type of style in the Sidekixx future?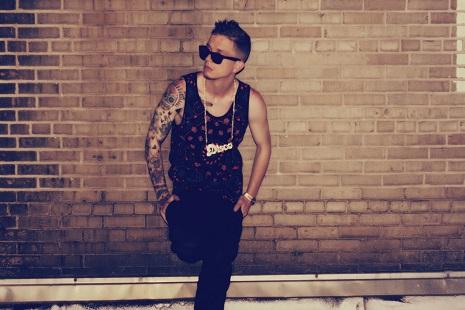 Nick Ralph: THANK YOU SIR – Respect! I have always loved freestyling and think it's very therapeutic. You can't lie when you TRULY freestyle (not memorized or pre-written verses). When you're broke, you talk about getting money, when you're angry you talk about haters or the struggle etc. I encourage everyone to freestyle! To answer your question, now that we have our own full blown production studio in The Bronx in a barbershop (G STAR CUTS!) you will be hearing a lot more from ALL of us musically. So….yes, yes and YES!
1200Dreams: Speaking of the future what do you all see as EDM's future not only as a business but what is more important, creatively?
Nick Ralph: Electronic music will never die, it continues to blend in with hip hop, dubstep, pop and even recently country music! I see people opening up to it more – the energy is crazy, go to a concert, show or anywhere where people truly love EDM/electro/trance/techno/house music and feel the energy. The possibilities are limitless.
Queen Sessi: Electronic Music is amazing. It is a huge market to be apart of especially overseas. Everyone loves to party and partying NEVER ends! This kind of music will always be around and that's the beauty of it. EDM music magically inspires you to dance and wear crazy outfits. That is my favorite part of being a EDM singer, the crazy colorful side that comes out of it.
Kool Kris: I agree Nick, "House music all night long" lol… It's just feel good music. It's for everyone no matter race, gender, color. It's all about good energy, positive energy, and high energy. The tempo/bpm that house/EDM music is recording in ranges from 128 to 140 which is in the range of a lot of other music. So you can easily mix,match and remix it's endless…
High Five Porcupine

1200Dreams: Songs like Hive Five Porcupine show you guys have a sense of humor, a side not afraid to have fun. Is that by design or is it more about, hey I'm having fun, lets dance and have a good time?
Nick Ralph: When we're in the studio we just have fun and want to show people to celebrate your creative side. That particular record was made after I took a girl on a date to the ferris wheel in Toys R Us in Time Square (ballin!) After we took a picture in the store, this guy did the handshake and I immediately knew that I had to turn that handshake into a dance record!
Queen Sessi: We create music that is fun for people to party to. We want others to dance and have a good time with us and not be afraid to be silly or show your wild side. Thats what makes us creative. Music is all about expressing yourself. Not caring what others think is something that we have moved passed. We learned to master being ourselves and setting ourselves free!
Kool Kris: Definitely wasn't by design, you can't design something like that. That just HAPPENED… Sessi, Nick and I are all fun people who are not afraid to be ourselves behind closed doors or in the public eye. I think it's very important to be yourself in this industry, when you try to be something your not it's comes across as trying to hard and I feel it turns a lot of people away.
People appreciate when you are yourself… I know I do…
1200Dreams: Your song Turn It Up is pure energy, that track can set any dance floor on fire. How has it been when you play it live and tell us about the video, how much fun was it shooting that?
Nick Ralph: Oh man, we always get the crowd jumping when we perform that record! It has a 90's/freestyle vibe to it while being modern at the same time so it hits all age ranges – kids especially LOVE IT. Shooting the video in Florida was fun! Catching the sunrise, finding a random white guy on a scooter and having Sessi hop on his bike, all in all it was magic. The record is fun and always gets the party started.
Queen Sessi: When we play it live the crowd goes crazy! That puts a smile to my face. When we recorded this song we were really excited, we all looked at each other like "Oh Boy this is it"! We have lots of energy, especially when we are performing. We turn up the party and light the dance floor on fire!
Shooting the video was so much fun, considering the fact that we didn't sleep at all! From hitting the beach in time for the sunset and the random guy on the moped at 2:30 AM. It was sick! I always have fun doing videos and music; this stuff puts a smile on my face at all times. It actually makes us all wanna never stop <3
Kool Kris: It's amazing the response we've been getting from radio stations across the country playing it, to online magazines posting about it, to Video Music Box playing it… I mean what else can I say it's a HIT… The video was a great experience it was pure creativity, no script, no direction, no plan.. just three people with a hot record and a dope camera having fun.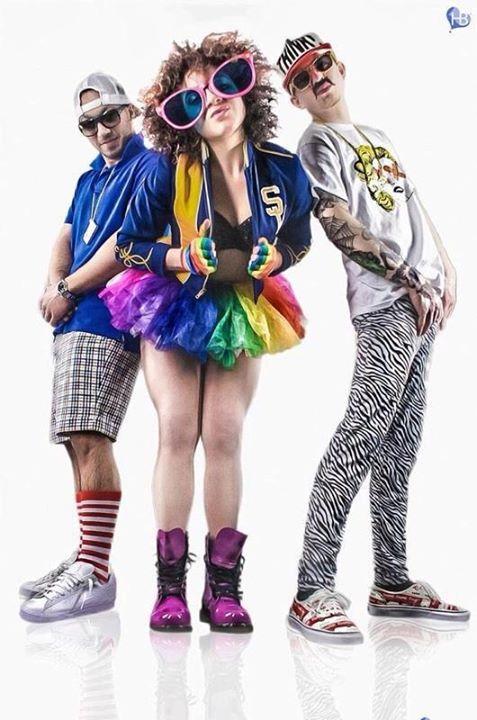 1200Dreams: You've been doing a little bit more traveling lately, tell us what interesting aspects you see in the different dance scenes of the cities you've been too. Any particular club, city, or event that stands out and people should be aware of?
Nick Ralph: Traveling and touring has been incredible. I have to say I love hitting the road and just meeting new people, eating way too much food, and just getting culture shock. I love to see the way people react to Queen Sessi, the stories people tell us, the love we get is very inspiring. I think our first show will always be in my memory because it was the ULTIMATE first show, a small venue in a restaurant in Philly. Classic.
Queen Sessi: I love being away from home. As much as I love my city, meeting new people excites me. Seeing what the fashion in Atlanta was like was pretty cool. Being on the road with the guys is hilarious. As fun and annoying as they are to me, sometimes I hate being without them. From having an agenda set each time while being away is the best part. Rushing from place to place and shopping for funky outfits excites me! The waffle house has really been my favorite place to be when on the road. I love when people comment on my accent. I never really thought it showed that much lol.
Kool Kris: Personally I LOVE ATL… Southern hospitality does exist. From the food, to the artsy areas that remind me of Williamsburg, Brooklyn, to the nice polite people… It's an amazing city; they are always on the cutting edge of new music, fashion trends, and new dance crazes.
1200Dreams: What's next for the Sidekixx?
"Trapped in the Future" is our mixtape coming out soon, more videos, and just hitting the road more – shows shows shows!
Turn It Up – Official Video
Bonus Video – Nick Ralph Freestyle
Official site: www.thesidekixx.com
YouTube: youtube.com/thesidekixxmusic
Soundcloud: soundcloud.com/thesidekixx

Facebook: www.facebook.com/thesidekixx
Big shout out to my barber Anthony M and the entire crew at G Star Cuts!