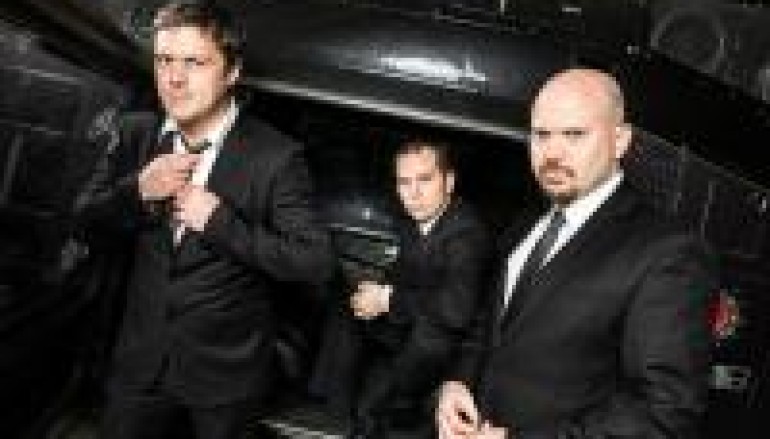 INTERNATIONAL MEN OF MYSTERY: Q&A WITH BROOKLYN'S OWN TORTURED SOUL
Written by Tania Fuentez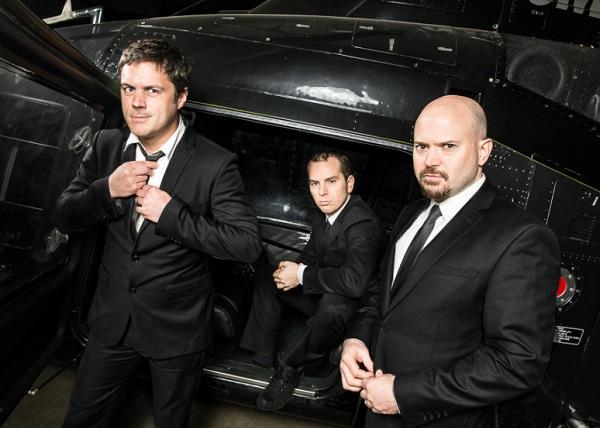 The quintessential band, Tortured Soul, ventures where few dare to go at a time when Auto-Tune and pre-programmed DJ sets seem to rule. In contrast (and, to their fans' delight), these gents represent the best in live performance backed up by a mean set of drums, vocal chops and some serious business going on with bass and keys. "I think our live show is something that shows people out there that this is real music that can be played by real musicians _ no computers, drum machines or CDJs on stage," keyboardist Ethan White says in the following exclusive with Tania Fuentez Media and shared with 1200Dreams.
Tortured Soul has been touring the globe nonstop for years as ambassadors of soulful grooves that equally earn the utmost respect on the underground circuit and sold-out music festivals. Esteemed label boss and DJ Gilles Peterson calls Tortured Soul the "future of House music" _ an impeccable trio exemplifying what most EDM acts should strive to be. Yeah, just that good.
1200Dreams: Tortured Soul fans understand change is inevitable, especially in the music industry, but please share some insight on JKriv's (Jason Kriveloff) departure and what's ahead for the band.
ETHAN: JKriv, for folks who don't know, was the original bassist in the band, along with me on keys and John-Christian Urich as the lead singer, drummer and primary composer for the group. In 2010, he decided he wanted to be home more, concentrating on his labels (Deep & Disco / Razor-N-Tape). It was a difficult decision for him, but we understood and we're still very tight. After much hunting and auditioning, we found Jordan Scannella to replace him on bass. He's totally sick on bass and a great guy to travel with. We couldn't be happier!
Right now, we are in the midst of many new things, and it's great to see people reacting to all the new music and tour dates. We just put out a new single called Dirty, which includes a live version with the band, as well as a more production-oriented original version. DJ Spinna, Makoto, DJ Pepsi and our own John-Christian Urich did remixes, and we've seen across the board favorable reactions to the song. We also just put out a track by another artist on our label. This is the first time we've tried this. The song is called Home, and it's a singer from New York named Ashley Jana. The main mix is by a Korean production team called Kai & Kyle. It caught our eye as a great song and a great track, so we signed it and contributed several of our own remixes to the release.
We also just collaborated with Black Coffee from South Africa for a song on his new record, and we are setting up the single release of that song on our TSTC Records later this winter. His version is classic Black Coffee combined with Christian's vocals and songwriting. It turned out really nicely. The single version will also have a Tortured Soul mix in the traditional style of the band and a remix I did that's more minimal and deep. All the mixes have Black Coffee's signature beats, so it's a true collaboration. This has led to talks of an ongoing relationship with Black Coffee – something we hope to announce soon …
2013 is looking like a great year for us overall, with more singles and collaborations, a live EP and an album, plus worldwide touring already in progress. Too much to list here!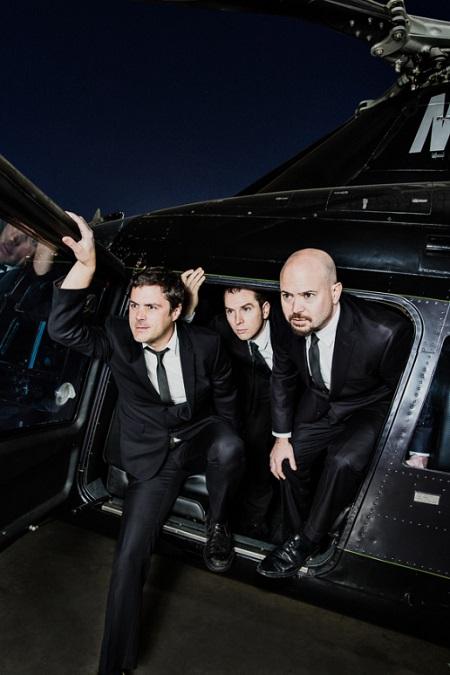 1200Dreams: Highlights from the European tour and South Africa. Any discoveries about yourselves on the road that made the group tighter or more creative? What did you listen to whenever you got homesick?
JORDAN: One of my highlights was at the Colours of Ostrava festival in Ostrava, Czech Republic. We were featured on the indoor NYC stage on Saturday night of the festival. The previous night, the three of us watched (without naming names) a legendary performer give a mediocre show to a very hungry, and ultimately dissatisfied audience. We knew that we had to bring it the following night. I learned a valuable lesson about respecting your audience, and in return getting their respect. That show was one of the most energetic shows that I can remember playing in my short interim with the band. Not the biggest crowd or stage, but a sense of community and fellowship similar to a religious experience. That proved to me the power of music.
Another highlight for me took place in Bloemfontein, South Africa, which was one of the epicenters of apartheid. After playing an amazing show outside for the Spring Day Music festival, the three of us split up, and I ended up rolling with local ZA DJ Pepsi, to an after-party in the heart of the townships. From what I understand, it would normally be slightly dodgy for a white guy to enter into that part of the city, but I would have never known. I rolled into this party and was greeted with such love and friendliness that you would have thought I was the mayor or something. People had either seen the show or just knew of Tortured Soul's music there and I never once felt anything but completely welcomed and celebrated. Incredible …
At the end leg of a European stint, the band had to stay just outside Vienna, near the airport in order to catch an early flight. There was not much around there, so the three of us set off to find what appeared to be the lone restaurant on the map, which didn't look to far away, a mile at most. Well, after a series of suspicious turns, abandoned parking lots and factory buildings, we finally happened upon the restaurant, just as it was closing. We were hungry and tired at this point, and decided to proceed back "as the crow flies." Well, that crow was an idiot and an hour later we found ourselves trudging through Austrian woodlands as night quickly descended on us. Those guys may disagree, but I think we grew stronger for it.
When I get homesick I have a few standby faves. Led Zeppelin II and (Red Hot Chili Pepper's) Blood Sugar Sex Magik were a big part of my formative years as a young bassist and it's always comforting to return to those records that feel like comfortable jeans. Joni Mitchell's Blue makes me wistful, I enjoy it. It's nice for that day after the show relaxed vibe, when you know you shouldn't have taken that last shot of Jaegermeister, and your body is paying for it. Joni understands …
1200Dreams: Love the new music, and Spinna's remix of Dirty. What other goodies are on the agenda for Tortured Soul? How did you guys toast the new year? Resolutions?
CHRISTIAN: Thank you. Glad you like the new single. It's kind of a departure from what we think Tortured Soul fans are use to thematically but we figured they could handle a little departure. Yeah, Spinna is one of those producers who is always on point. He gives the song and concept a real look and then develops a vibe that he thinks complements the mood. When you work with Spinna, you get a collaboration not just a remix.
Other goodies … Well, Ethan mentioned that we released a single on our label that featured a different act besides Tortured Soul. I mean we featured ourselves, too with the remixes I reckon, but we liked the song so much when we heard it that we decided we wanted to help as much as we could to try to expose Kai and Kyle and Ashley Jana to people connected to us who might like it as well. We've discussed doing this a little more often: releasing more non Tortured Soul music on TSTC Records since we can help to expose new music in ways a new artist may not have on their own.
Our main focus still is, however, fully Tortured Soul music that we will be releasing over the next few months. A few of the new songs are a little more down-tempo than most of our other repertoire veering more into the soul and R&B category than the dance category if we're talking labels, and we've taken some of the production fully live, so we're excited to see how our fans will react to this presentation.
New Year's we were partying in Orange County, California, for a great longstanding night deep house party (on Tuesdays!) called Focus which has been somewhat of a regular spot for us over the past couple years. We love to ring in the new year on stage … Resolutions: As crazy as it sounds, it would be to work on more music. Both Ethan and I are always really busy with the music BUSINESS. Ethan just did a couple remixes for a couple of our upcoming releases and I was like, "Dude these sound great … this is stupid … we need more remixes from you." But we have to balance the creative work we do with a lot of upkeep…
So new year's resolution? More music.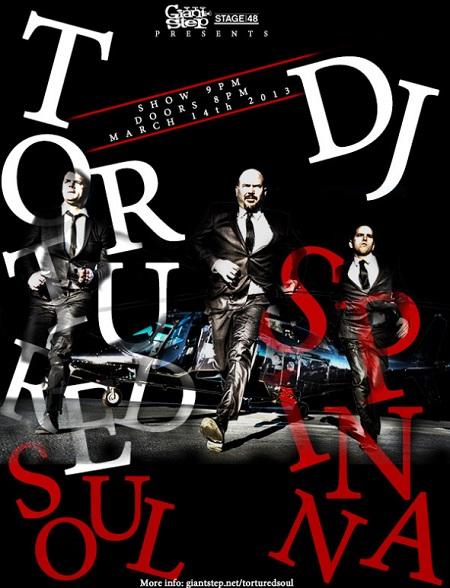 1200Dreams: If there was one thing Tortured Soul could do to best represent House music, what would that be?
ETHAN: We're truly workaholics when it comes to our music. I'm proud to be working with Christian who knows how to really write a "song" first and foremost, which transcends just a specific art form, and I'm also proud to work Jordan who is a registered bad-ass on the bass. But as far as the genre and how we represent it, I think our live show is something that shows people out there that this is real music that can be played by real musicians – no computers, drum machines or CDJs on stage. I think we've brought special exposure to this style of music by playing at festivals and venues where the audience is primarily live music-oriented. Vice versa, there are many club-goers who never realized that live music can work in a dance music venue without losing the energy or the pulse they're used to. Crossing between these different styles, we get the unique opportunity to open people's minds to new things.
1200Dreams: Best new acts to watch in 2013 (bands, DJs or other artists grabbing your attention now)?
CHRISTIAN: Music/projects I like … Kolombo, Stay Gold, Love Birds, Culoe de Song, Lee Foss, DJ Makoto. Extraordinarily bizarre but I like it: Sayura, VNS featuring UAP (Indonesia)
Recommended:
Tortured Soul: http://www.torturedsoulmusic.com/
Free Download Dirty (original mixes) here!

NOTE: All photos courtesy of Tortured Soul. Catch the band live in New York on March 14 at Stage 48 with DJ Spinna. Official after-party: Libation with Ian Friday at Sullivan Room.
Tania Fuentez is a New York-based professional journalist specializing in fine art photography, creative writing and visual arts, providing an outlet for all forms of independent, underground art. You can contact her at: [email protected].
PORTFOLIOS:
http://www.taniafuentezmedia.com