WEEKENDMIX 1.30.14: SUPER DJ BOWL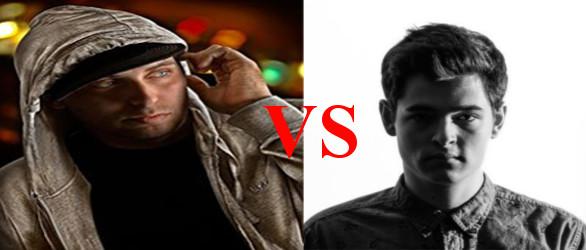 For the last month or so, it seems all you see plastered around the city on walls, buses and trains, and increasing by the day with what seems like at least three new billboards a day, are ads for this years Super Bowl! This is the first time, football's big game has been held in New York (sorry Jersey, it's like you don't exist), so maybe this is how inundated all host cities get, but when you live in New York you think you're used to this kind of mass advertising. This years bowl madness proves me wrong.
Well, you know how they say if you can't beat them join them, right? Well, this is how we join in on the madness 'round here. In this edition of WeekendMix we feature a sort of head-to-head DJ battle between one DJ from each of the cities battling it on on the gridiron this Sunday. And before you get your panties all up in a bunch because you think these are not the best DJs representing each city, or that one of them is not your average DJ, we say take a chill pill or go yell at the TV on Sunday – we're just having fun, aight?!
Ok, repping Seattle is DJ Diamond Pistols (Christian Dold) against none other than Denver's own Pretty Lights (Derek Vincent Smith)! You may say, hey, it's not fair, Pistols is relatively new and Pretty Lights is an international star, in which case I'd ask you read the last sentence of the last paragraph. Besides the fact that Pretty Lights -who we happened to feature as a DJ of The Week earlier this month- is relatively new himself, this is the type of match up we see regularly in the Super Bowl. Just think of Pistols as the Cinderella story, except you know, packing heat, as in dope beats.
Anyway, sound off in the comments below, which mix do you like best? We'll crown the winner on Monday or never, depending on how many replies we get. Cool? Ok, I'm off to go buy some chicken wings. Have a safe weekend, be safe, and have fun!
DIAMOND PISTOLS
VS.
PRETTY LIGHTS