WEEKENDMIX 10.19.12: 90'S REWIND TO THE FUTURE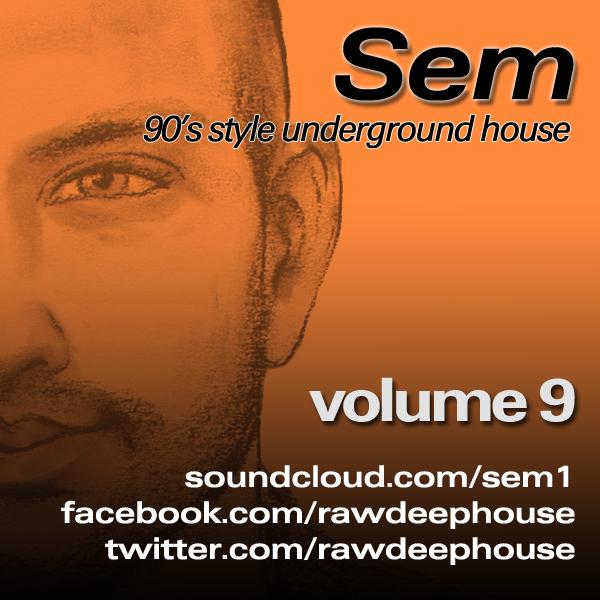 So, what had happened was….See, last nite I was at the video release party of one lovely lady by the name of Jasmine Clemente. Other than having a mix more or less in mind, I hadn't prepped or written anything for the WeekendMix -despite having promised myself I would. When I arrived home, which was naturally pretty late, I had no energy whatsoever to write. I wasn't white girl wasted as much as old man tired. Sleep won out.

Of course, I wasn't gonna skip on my responsibilty, so upon arriving at the office this morning, I set about to set things right. But, I couldn't find the mix. Then as if the Gods of House heard my despair, they lead me to the following mix.
I'm not even sure why I clicked on it to tell you the truth. I mean, it's titled 90's Style Underground House Vol. 9, and though I absolutely love 90's House, I wanted something else. Well, that all changed once the first drum kick hit.

The DJ mastermind behind the mix is DJ Sem from the UK. Sem's love for dance music goes back to the 90's, when he first discovered Breakbeat Hardcore. In 1995 he discovered Underground House and Garage and well, it's been love ever since.
Sem keeps that 90's House feel alive and kicking, but not by playing strictly 90's fare. No mate, Sem focuses on what he calls the 'Newskool' 'Oldskool' vibe -new joints with that 90's flavor. Featuring new and exclusives tracks from the likes of Alex Agore, Washerman, Mikki Funk, Danny J. Lewis, Mike Sharon, Gerd, Jackmaster K, JMX, and more, Sem keeps it fresh and groovy. Let's call it 90's 2.0.
Besides the awesome music selection -he also drops in a hidden gem circa 1995- Sem masterfully mixes it all together, resulting in a great mix that revitalizes me so much I'm certain I won't be old man tired at all this weekend. Have a great weekend party people!

Want your mix featured in WeekendMix?
Send us a short bio with links to a Soundcloud or Mixcloud mix to weekendmix [dot] 1200dreams [dot] com.
We will listen and if you touch our minds, body, and/or soul, you just might get feaured.
As an added bonu, all featured mixes are LIKED on Soundcloud/Mixloud, you're FB fanpage is added to our Fanpages Favorites, and we Tweet the hell out of your mix for a week.