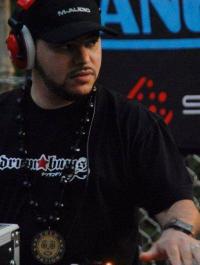 DJ OF THE WEEK 6.23.14: JOHNNY "JUICE" ROSADO

DJs are rocks stars these days, commanding big bucks for playing massive EDM festivals, and remixing pop stars music for play on prime time radio, and people are growing tired of them. Of course, the DJs that attain commercial success are just the face the machine likes to put out front, but those who aren't easily swayed by the spectacle of it all know that behind the scenes lie the real movers and shakers, and not all of them aspire to be pop stars, some are just happy being the best. Johnny "Juice" Rosado is one such DJ.
DJ Johnny "Juice" Rosado is an award winning and Emmy-Nominated Composer, Producer, Turntablist, Engineer, Musician, B-boy, Graf writer, MC, Educator, Lecturer, and Mentor. He was nominated for an Outstanding Music Composition Emmy for his work on ESPN's Ali Rap, 3 NAACP Image Awards including Best Album, and was inducted into the Long Island Music Hall of Fame and the Rock and Roll Hall of Fame as a member of Public Enemy! Need I go on?
Well, allow me to give you a quick synopsis of his origin story. Born in the Bronx in 1970, Rosado was right there in the middle of it all, in fact, as he puts it, it happened right outside his front door, when Hip Hop was born. You know those block parties that are all but legendary tales now? Yeah, those happened on his block. He saw it, he lived it, Rosado is Hip Hop.
As a teen, the Rosado family packed up and left the rough streets of the Bronx and moved to Long Island, or as it is more commonly known by the locals, Strong Island. It was the early 80's and Hip Hop was still primarily a New York thing, so when Rosado arrived at his new home borough, already schooled in the key elements of Hip Hop: B-boying, graf art, MCing, and DJing he more than fit right in.
Rosado was already familiar with the act of joining crews, all but an essential right of passage in Hip Hop's early days. Point of fact, he had already been in a group back in the Bronx known as The Bronx Boys Rocking Crew often credited as one of the first to exist. Back in Strong Island, he teamed up with two new neighborhood friends who went by the names MC KBMC and Chill O Ski. Lest you think these names rest somewhere in the graveyard of Hip Hop's past, let me stop you right there. MC KBMC and Chill O Ski are now known as Charlie Brown and Busta Rhymes respectively. While Charlie Brown and Busta Rhymes went on to form the legendary group Leaders of the New School, Rosado zeroed in on the turntables.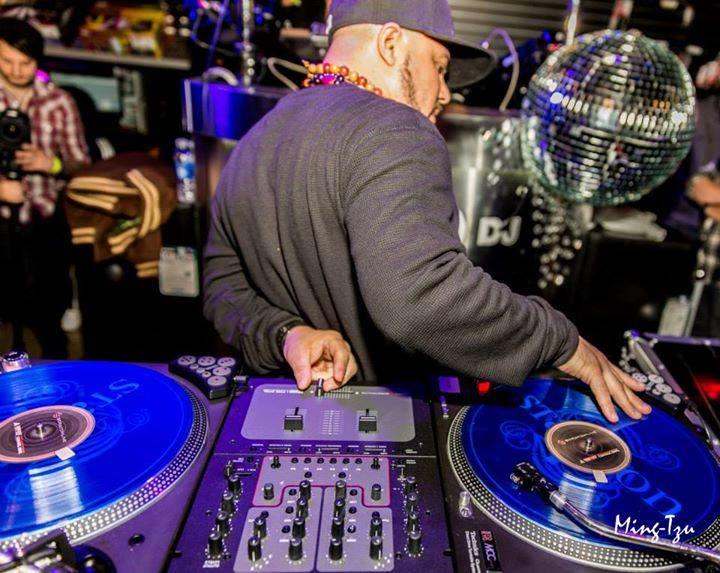 See, despite his considerable skills behind the mic, and rest assured he possessed the lyrical gifts, the Hip Hop element that most interested Rosado, was DJing. He soon mastered the art of beat matching, mixing, and most of all scratching and began partaking in DJ contests. He would go on to win one put together by another set of locals by the name of Carlton Ridenhour and Hank Boxley. The win secured his spot as a DJ and MC for a new group called The Kings Of Pressure. This then lead to his work as "ghost scratcher" for the Bomb Squad. Yes, the producers behind the era defining sounds of the era defining group Public Enemy. Oh yeah, Carlton Ridenhour and Hank Boxley are Chuck D and Hank Shocklee, respectively.
Johnny would end up becoming the second DJ for Public Enemy and to travel the world spreading the gospel of Hip Hop. With the world as his oyster Rosado, by this time world famous and known by Johnny "Juice" Rosado, took off from there lending his considerable skills and a producer to everyone from fellow Hip Hop artists such as Slick Rick, Beastie Boys, KRS-One, Leaders of the New School, to R&B's Oran "Juice" Jones, 90's dance behemoths C&C Music Factory, even Punk bands such as The Krays and Jazz artists such as Mavis Staples, Mandrill, Pete Cosey, Gene Barge, and many, many more.
Juice also made the crossover to hollywood, working on Film and TV scores for projects such as He Got Game, Third Watch, Martin Scorsese Presents the Blues: A Musical Journey, The Blues: Godfathers and Sons, On The Shoulders of Giants and more. All the while, Juice has remained loyal to his Hip Hop roots and continues to be Chuck D's right hand man, scratching and cutting in stops all over the world, writing for publications such as Mix Magazine, Electronic Musician, Future Music, Computer Music, Scratch Magazine, DJ Times, and Mobile Beat Magazine among others, and otherwise spreading the gospel of Hip Hop from his front down to the entire world.
Cool fact: Johnny "Juice" Rosado was actually the first DJ I ever interviewed on video when I began 1200Dreams way back when. Yes, it is something he is very proud of. 🙂 It was at a now defunct technology tradeshow in New Yorks Jacob Javits Center. He was demonstrating the now discontinued Torq DJ software by M-Audio. What struck me was how unaware the public was that they were standing in the shadow of Hip Hop greatness and just how humble, pleasant, and accommodating he was to anyone who had a question or simply wanted to see him from behind the tables as he cut and scratch like the master wizard that he is. One can say, he had to be nice that was his job, but let's not front, there are plenty of high profile DJs who when pitching product, or just showing up for a gig, simply can't curtail the ego. Juice has never been about that despite the undeniable heavyweight credentials he possesses and he possesses more than most. That is something certain big name DJs these days can surely learn.
So, you think Johnny "Juice" Rosado needs some of that commercial success to be considered having "made it"? I don't think so.
BONUS VIDEO
Check out the new video for "Super Secret Identity" by Johnny Juice and Illus from Illus forthcoming album, The Final Chapter.