Kevin Saunderson Is In The House With New 2 CD Mix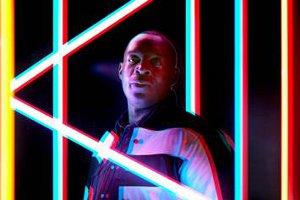 Kevin Saunderson has an enviable dual reputation. To the dance cognoscenti he's one of the "Belleville Three" the trio of friends who invented Detroit techno. He is a gifted producer and remixer under such aliases as E-Dancer and The Reese Project and is a tireless international DJ. To lovers of great pop music he's a part of the legendary 80s/90s dance outfit Inner City.
Since founding KMS Records some 25 years ago, one the one hand, Kevin Saunderson's name became synonymous with innovative, forward thinking, sublime techno. As the driving force behind a hugely respected and influential label, a most dextrous producer of music and as a continuously in demand international underground DJ, Kevin's musical career has remained on the leading edge of electronic music.
But from another perspective, 1988 still stands as the defining moment… the first Inner City track 'Big Fun' hit the British charts with surprising crossover success charting at number eight. It was quickly followed up by 'Good Life' which peaked even higher in the UK Chart at number four. Through Inner City, Kevin Saunderson brought the burgeoning sound of Detroit to the UK and the World and heralded the beginning of dance culture as we now know it. Inner City went on to sell over 6 million records combined and many of their tracks remain the most euphoric moments in dance music history. Having woven such a fascinating career path, it's very easy to argue Kevin occupies a unique position: that transcends total music credibility and commercial success.
Now, late 2011 into early 2012 witness the return of Kevin Saunderson to the forefront of the dance music spectrum not only with his band and the release of the first new Inner City material in over ten years but now with his brand new double mix album addition to the critically acclaimed 'In The House' compilation series. The Defected series that has sold more than 2.5million copies around the globe and has showcased the sound of the world's leading DJs and pioneer producers from Dennis Ferrer, Danny Krivit, MAW, Jazzy Jeff, Giles Peterson and Dimitri from Paris to name just a few.
Today Kevin's influence can be heard right across the current dance music landscape, from the productions of Supernova and Theo Parrish to the likes of Detroit natives Seth Troxler and Ryan Crosson as Visonquest, before it is even mentioned how Inner City wrote the blueprint for Hercules & Love Affair and Azari & III. Elevating his status further, acts such as Simian Mobile Disco and the young queen of the urban pop/dubstep Katy B have recently remixed or reworked 'Big Fun' and 'Good Life' to bring his vibes to whole new generation of dance music lover. It is fair to say, Kevin's impact and influence runs through the veins of dance and pop music.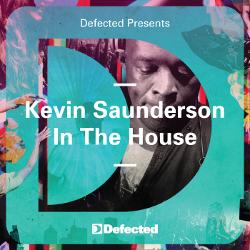 We wanted to hear what Kevin himself had to say about it all. Kevin Saunderson In The House gives us a rare and privileged chance to sample his sound, neatly distilled into two mixes of House and Techno, mixed completely live and displaying all the fine nuances you would expect if you were to see him in his natural habitat: the club environment. Both mixes flow from deep house into more progressive beats to straight up raw techno. Listen out for the Inner City flavours that run throughout: included here is a brand new interpretation of Good Life and Carl Craig's mix Kevin's personal Inner City favourite, Till We Meet Again. However, in 2012, the real meat comes in the form of Kenny Larkin's Tension Mix of the brand new track 'Future'; a powerful slice of pure techno, with staccato and chopped up vocals that delivers harder than a right hook from Joe Louis. It features a bass heavy kick that delicately fades out only to drop back in with no little force.
The mix also features standout tracks and remixes from Kevin's peers with Osunlade, Josh Wink, Carl Craig, Robert Hood, King Britt, Jimpster, Joris Voorn, Phil Weeks and Samuel L. Session all contributing to what is unquestionably a classic album in the making and a turning point in Kevin's career, ushering in a new era of creativity and productivity and with it a new audience previously unaware of this pioneer's history, importance, influence and legacy.
This album is not just perfect for lovers of Detroit Techno but all fans of dance music who appreciate quality mixes by legendary master producers. True quality can never be over-estimated.
Kevin Saunderson In The House by Defected Records
Kevin Saunderson In The House. Released: Feb 6th 2012
CD1
1 The Soulshapes 'Comin''
2 Jay Haze feat. Laila Tov 'I Wait For You'
(King Britt Remix)
3 Reese & Santonio 'The Sound' (2011 Remix)
4 Brick City 'Rumba Magic' (2010 Mix)
5 Osunlade 'Envision' (Yoruba Soul Mix)
6 Josh Wink 'Jus Right' (Jimpster Remix)
7 Michel Cleis 'Litoral' (Original Mix)
8 Lauhaus 'Moonshine'
9 Alex Kenji 'Those Good Vibes'
10 Adam Port 'The American Dream'
11 Heartik 'Meltdown' (Original)
12 Kevin Saunderson feat. Inner City 'Future'
(Kenny Larkin Tension Mix)
13 Inner City 'Good Life 2011' (Instrumental)
14 Shlomi Aber 'Groove Mechanism' (Chris
Liebing Remix)
15 Gavin Herlihy 'Watch Ya Feet' (Berlin Mix)
17 Manjane 'Do The Dishes' (Original Mix)
CD2
1 Kevin Master 'Reese'
2 Alex Picone 'En Pensant' (Phil Weeks Remix)
3 Phil Agosta 'Tribute To Detroit'
(Agent X Motor City Mix)
4 Internullo 'Taifas' (Alex Celler Dub)
5 Pablo Fierro 'Check the Boogie'
(Soul Minority Remix)
6 Humano 'Life'
7 Kevin Saunderson 'Pump The Move'
(Samuel L Session Remix)
8 Gabriel Rocha 'Ride On Time'
(Original Club Mix)
9 Kweku Saunderson 'Innuendo'
10 Brandon Decarlo 'Forever & A Day'
11 Kevin Saunderson 'Rock To The Beat'
(Ben Sims Remix)
12 Tommy FourSeven 'Track 5' (Robert Hood Mix)
13 Carl Craig 'At Les'
(Christian Smith Hypnotica Remix)
14 Inner City 'Till We Meet Again'
(Carl Craig Remix)
15 Kevin Saunderson 'Bassline' (Joris Voorn Remix)