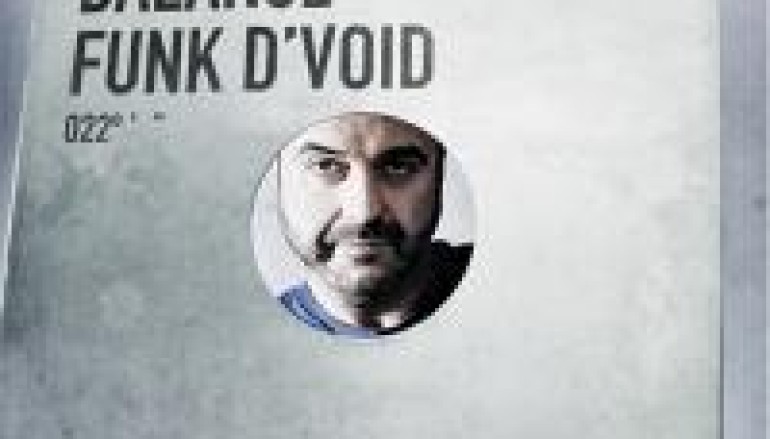 Preview Funk D'void's Latest – Balance 022 [MUSIC]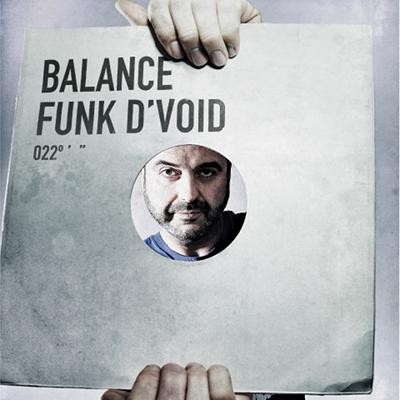 Once the acclaimed Scottish duo Slam planted the flag for techno in Glasgow at the start of the '90s, the city's musical destiny was changed forever. Fostering many a great talent with their Soma imprint, Lars Sandberg – aka Funk D'Void, aka Francois Dubois – remains one of the brightest stars that they have uncovered. After breaking through on the legendary duo's label in 1995, Funk D'Void forged a sound that combined techno beats and percussion with soaring melodies and chords to scintillating effect. Continuing to impress with his own Outpost Recordings, this new double mix CD for the acclaimed Balance series sees this enduring talent follow on from his previous compilations for the German powerhouse Cocoon label and Soma.
"My inspiration for Balance 022 stems from listening to the 'Back To Mine' compilation series of the previous decade," he reveals. "A particular memory was imprinted on me from a long car journey back from the beach with friends when we listened to one of the releases without speaking for two hours, completely lost in the whole magic of the day together." In keeping with the timeless nature of that series and other inspiring mix CDs, he was keen both to clearly mark his own stamp on the compilation and to avoid disposability and transience in its content.
"I didn't want too many of the latest hottest tracks in the mix, so I basically made a selection of moments that have had the biggest impact on me and attempted to weave them into a cohesive structure that might connect on the same level that I had experienced them. Every track has been edited by me so I wasn't held back by overlong arrangements built for the club, opting instead for the immediate impact that could still be attained as one body of work." -Funk D'Void
Disc 1 gets down to serious business with no delay, Sandberg's way with atmospherics and groove immediately brought to the fore in his remix of Hawkinson's "Introduction." This first disc focuses squarely on the myriad flavors of techno and deeper house that permeate a typical Funk D'Void set, with melody served up in a subtle fashion amidst throbbing, inviting rhythms. It's techno for the heart, head and soul as well as the body – the way its pioneers intended it. Indeed, nods to Detroit come early on through Monty Luke and Underground Resistance mainstays Los Hermanos, those gentle melodies soon building to the unbridled euphoria and old skool breaks of Chris Malinchak's "Razor." He plays with the listener's emotion across the mix, weaving between dark and joyful, taking things deep with plodding analog basslines and an exclusive cut from rising name Arkist.
John Tejada's re-rub of Soy Mustafa's "Return Of The Annunaki" tingles the spine before we head deeper into hypnotic territories courtesy of Moodymanc and Exercise One & Mathew Jonson. Out of the murky depths of the mid-section rise the splashy disco hi-hats and filtered loops of Sam Matters' hazy "Weight Off My Mind" and some ethereal beauty from Chymera. Pezzner's "Only With Your Eyes" injects some organic instrumentation as a contrast to the electronic textures of the rest of the disc, and Sandberg's edit of Vince Watson's "A Very Different World" brings those sumptuous melodies back to fore as one reaches this first disc's climate. Tony Lionni's sublime "Loving You" guides us to a heady crescendo with its bold lead lines and chords, before our host finishes off with an exclusive rolling funk-fuelled remix of his classic "Diabla" by Ireland's ever-impressive Psycatron.
Listen to the Disc 1 Preview here.
Disc 2 of this stunning selection pulls at that glistening, euphoric thread that teases throughout the first disc and lets it run rampant over a beautiful selection of slo-mo, sun-licked tracks that make for a masterful sunset or sunrise set. Kolombo's "Waiting For" sets the charmed Balearic vocals to work, with Italo-synth bass and sensual arpeggios resplendent in Lee Webster's "Delve" thereafter. One journeys through the funk of Lovebirds' "Running Backwards" and the sweeping atmospherics of Vince Watson's epic "Celtic Beauty" before the tempo suddenly lurches into the prettiest of all dubstep on our DJ's own exclusive edit of Joash's "Assassin." An exclusive Joris Voorn cut momentarily continues the pacier theme, before Sandberg slips into his Francois Dubois guise to take us into lush deep house territory.
Stunning synth work abounds in Rhythm Maker's "Alles Mainstream," with some Patrice Scott ambience then leading into vintage Rob Acid grit, and next bouncing disco in Soundstream's "Making Love." There's room for some more low-slung bassline grooving as we reach the conclusion, Dennis DeSantis' wonderfully subtle "You Say" providing a delectable parting shot which again underlines Funk D'Void's love of tangible emotion in house and techno music.
Listen to the Disc 2 Preview on here.
Funk D'Void has clearly stamped his identity on the Balance series here, deftly displaying the two distinct ends of his musical spectrum of which he effortlessly finds the happy medium.
"Making such a contribution to such a revered physical CD series I felt that I had to offer something that would transcend the constraints of some of the fickle, fashionable sounds of today's electronic music scene and record something that would be hopefully still be as welcoming as seeing an old friend over the years upon repeated listens. If some of these sounds reach you in the way they have stayed with me, then my purpose in compiling them has been fulfilled." -Funk D'Void
'Balance 022: Funk D'Void' Tracklisting:
Disc 1
1. Hawkinson "Introduction (Funk D'Void remix)"
2. Monty Luke "Yesterday & Today"
3. Los Hermanos "Olmec My Brother"
4. Chris Malinchak "Razor"
5. Peter Dildo "Lucky Punch"
6. Arkist "Effingham PL" ***EXCLUSIVE***
7. Tonka "Orca (dub)"
8. Mike Acetate "Elevate (Shur-I-Kan & Milton Jackson remix)"
9. Soy Mustafa "Return Of The Annunaki (John Tejada Cinematic Edit)"
10. Moodymanc "Talker (Drum dub mix)"
11. Exercise One & Mathew Jonson "Lost Forever In A Happy Crowd"
12. Guy Andrews "Confuted" ***EXCLUSIVE***
13. Delano Smith "Wires"
14. Sam Matters "Weight Off My Mind"
15. Chymera "The Chase (Steve Rachmad Edit)"
16. Jesper Dahlback "Nyhus Part Two"
17. Pezzner "Only With Your Eyes"
18. Spirit Catcher "Sedona (Andre Lodemann remix)"
19. Vincent I. Watson "A Very Different World (Funk D'Void remix)"
20. Tony Lionni "Loving You"
21. Funk D'Void "Diabla (Psycatron Unreleased remix)" ***EXCLUSIVE***
Disc 2
1. Alucidnation "Suspended On Air"
2. Kolombo "Waiting For"
3. Lee Webster "Delve" ***EXCLUSIVE***
4. Pat Metheny "Electric Counterpoint (Fast)"
5. Lovebirds "Running Backwards"
6. Space Dimension Controller "Journey To The Core Of The Unknown Sphere"
7. Martin Patino "Hommage (Joash Remix)"
8. Outmode "Dark Journey (Toby Tobias' Journey to the Light Remix)"
9. Vincent I. Watson "Celtic Beauty"
10. Joash "Assassin (Funk D'Void Remix)"
11. Joris Voorn "RE-2001" ***EXCLUSIVE***
12. Chaser "Bite The Bullet (Francois Dubois Remix)"
13. Tom Ellis "Go Through Me"
14. DJ Profile "Can U Sing"
15. Rhythm Maker "Alles Mainstream"
16. Patrice Scott "Tones & Things"
17. Robert Babicz "Out Of Order (Rob Acid Version)"
18. Soundstream "Makin Love"
19. Blackman "Headroom"
20. Phil Kieran "Prism"
21. The Reboot Joy Confession "1999"
22. Wasted Gaze "Untitled State Of Mind"
23. Francois Dubois "Sweet Spot"
24. Dennis DeSantis "You Say"