WEEKENDMIX 6.20.14: I DARE YOU TO COMPLAIN ABOUT SUMMER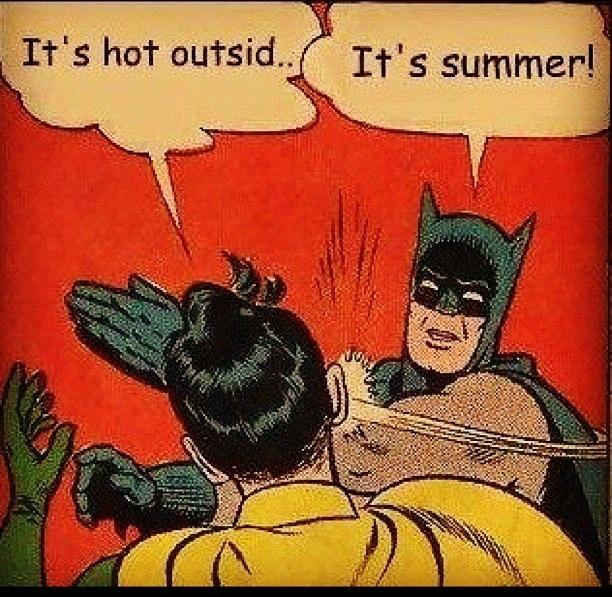 In a few hours it will officially be summer and if I hear one person complain about the heat anytime before mid August, I will do like Batman does Robin in that famous meme!
I mean come on, after the winter we had, which feels as if it just ended last weekend, I can't fathom why anyone would complain. Don't these people recall the three feet high and above mounds of snow we had to walk through a few months ago; how could heat not be better?
Fact is some people will just never be happy and have yet to learn that they simply need to appreciate the here and now, even if that here and now is colder than a witch's titty (always wanted to work that into an article). Of course, that is easy for me to say, I love the summer and it's here, now! So, let's celebrate before it's over.
Following are three high energy mixes that are fresh off the grill yo! We have DJ Chuwe with a mix that includes everything from big room EDM bangers to Hip Hop bangers and Reggeaton bangers and all types of bangers! We follow that up with a mix from Karim Hype with a mix chuck full of grind worthy Dancehall. Lastly is the Freestylers. These cats are tearing it up on the EDM festival circuit currently, but they managed to drop this mix just yesterday and I knew it was worthy of inclusion the second began popping my neck.
So, I hope you're ready to work up a sweat, unless you have a problem with sweating in which case I refer you to the image above.
So, don't forget to downlaod and be happy and have a great one party people!
Its Summer Time Volume 4 Mixtape – LMP
LANDMARK SUMMER SUPA SOUND 2K14 MIX (ONE – TRK)
Love My Bass Summer 2014 Mix