WEEKENDMIX 11.9.12: RIGHT TO VOTE

With all the cleaning up and the slow process of getting back to the "new" normal after Hurricane Sandy, it's been hard to spend quality time listening to music, much less listening to loads of mixes in search of that one gem that stands out.
Selecting a WeekendMix is not necessarily an easy or quick task -listening to all these mixes takes a lot of time. Still, the job has to get done so beginning with my commute to work this morning -my first day back to work in over a week and a half- I have been practically blowing my ears out all day listening to mix after mix, looking for that one gem.
Thankfully, when you've been doing it for as long as I have you start to develop a sort of sixth sense and you can spot a mix before you even click play. Actually, that's bs, you still need to listen to the mixes. Which is why I was a lil disappointed when I sat down to write this and I still hadn't found a mix that moved me. Looks like the Gods of Dance heard me again though, because suddenly, there it was.
The one bright part of the week -at least for the "majority" of us still dealing with the aftermath of Hurricane Sandy, is the reelection of President Obama. To say this has been a momentous week would be an understatement. Which is why when a mix titled 'Right To Vote' popped up on my radar, by none other than Osunlade, I was more than surprised. Of course, I hit play immediately and when I found myself 25 minutes in and with no desire to move on to another, I knew I had found my mix.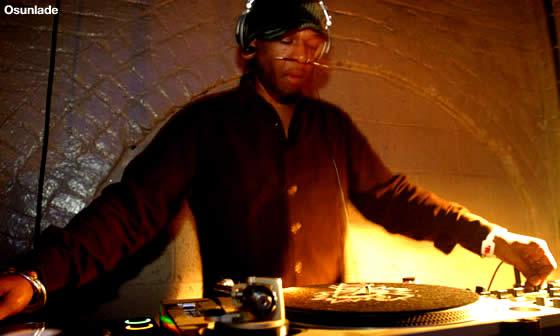 Now, this wasn't planned. It wasn't my intention whatsoever to even focus on the Election. Not that I was against the idea, it had actually crossed my mind. I just didn't think I'd find anything appropriate. It also wasn't my intention to feature Osunlade or one of his mixes yet again. Yet, this is the most appropriate mix I could have ever found.
See, aside from the quality, the skill, and the creativity I look for in a mix, another criteria I look for is relevancy. During a holiday or even a season, I try to feature mixes that capture the energy in the air at the time. And there is another element I look for in the mixes I feature, something that goes beyond dope beats, magical blends, or even perfectly and relevantly (is that a word) titled mixes, and that is the spirituality within.
Cheesy? Melodramatic? Perhaps, but see, if you are a real DJ or a real fan of DJs and what they do, of EDM and where it takes you, if you call going to a club going to church, then you already believe the same thing. When at its best, there is a spiritual element to this music, to what the DJs do behind the decks. I sincerely believe no other DJ captures and delivers this essence as well as Osunlade. So, we're healing. We're celebrating. We're grooving. And for whatever it's worth, with the following mix, Osunlade will help take us there.